10 Quick Tips to Improve your Closet Organization Efficiency
Closet organization is one challenge many people have a hard time conquering. The closet is usually the last place you want to spend time organizing, after all who really see's your closets? You do, that's who!
Keeping your closet organized helps to reduce your stress and make your days more efficient. Let's be honest, how much time have you wasted trying to find a specific article of clothing in your closet?
By using our 10 quick tips for closet organization, you'll start to feel the "organizer's high" that comes to all who neatly fold.
1. Group Items Together
Hang separates such as skirts, blouses and jackets in groups of similar items to help you envision more combinations.
2. Be careful with what goes next to what
Don't hang or stack items that shed like angora or mohair near ones that attract like corduroy or velvet.
3. Keep Items within Reach
Don't hide things away in drawers that can be easily folded square (like sweaters or tee shirts) and which are better stored on open shelves. The ones in the bottom of the drawer rarely get worn.
4. Reduce "Shoulder Bulges"
Don't hang sweaters or knits; fold them to maintain their shape. You don't want bulges in the shoulders.
5. Shoes, Shoes, Shoes
Store special occasion shoes in labeled boxes on higher shelves. Use the lower shoe shelves for your every day foot wear. Think about different ways to store footwear based on type such as cubbies, shoe boxes, narrow shelves, etc.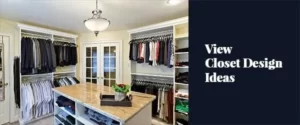 6. Scarves Storage
Fold scarves flat and store them on the shelves between your double hang sections.
7. Belts and Bags
Belts with large or awkward buckles that won't fit easily on belt racks can be coiled and then stored in drawers with compartments or on shelves.
Store purses either standing on their bottoms or lying flat and stuff them with tissue paper to help retain their shape.
8. Spacing is Important
Don't squish too many folded items onto a shelf to avoid crushing and wrinkling. The same goes for your hanging clothing. Give items a bit of space when hanging as it also helps air them out after wearing.
9. Downsize Regularly
Don't hesitate to continually update your wardrobe by removing those items rarely worn or out of sate. Give them to some worthy charity. You will feel good about an act of kindness while making room for new items that you will wear.
10. Keep things fresh!
Experiment! Move things around, try new ways to maximize your storage space while preserving the condition of your clothing. Have fun in your closet!
Is your closet a disaster? Do you find yourself wasting priceless minutes looking for your favorite article of clothing? Use these 10 quick tips to help improve your organization efficiency. By implementing these easy items, you can dramatically improve your closet organization.