3 Features that will Enhance Your Bedroom Closet Design
If your bedroom closet is just a place to hang (or stuff) your clothes, you're really missing out on how spectacular it could be. You should start with a system. We can help you organize the clothing that you own by designing a truly custom system to maximize space utilization and ease of access. Some people hang similar items together, such as shirts in one section and pants in another. Some organize by color. And some arrange the closet seasonally.
Whatever system works for you, the Closet Works has everything that you need to make it better than you imagined. Instead of merely a place to hang all of your clothes, your closet can keep everything that you need organized and within easy reach.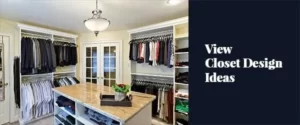 1. You Never Knew How Much You Needed a Bench
Think about all of the times when you've balanced on one foot or leaned against the wall to put on or take off a pair of shoes. And if you're dealing with boots, the whole ordeal becomes a lot more challenging. Add a bench to your closet design, and you've got a built-in spot for donning hosiery and socks without losing your balance.
Benches are also a great addition for children and people with mobility issues. Having a place to sit and get dressed in or near the closet is much more convenient than removing clothing from hangers and drawers and taking it elsewhere.
2. Walk-in Closets and Islands are a Great Pair
Islands aren't just for kitchens. While they won't work in a reach-in closet, a walk-in is ideal for this kind of organization and convenience dynamo. Islands can be almost any size, so you don't need a lot of space. An average walk-in closet can house a smaller island, and of course a larger closet can fit one that's loaded with features.
Islands serve so many different purposes. On the flat surface of the top, you can set out an outfit for the next day, match up socks and fold clothes. Are you planning a trip? The top of your island is perfect for packing your suitcase without the need to bend over, and put undue stress on your back. The Closet Works can install drawers, too, which give you right-size storage for jewelry and lingerie. With cubbies underneath, you could store shoes. And if you add a pull-out ironing board, you'll never have to set up a full-size one just to freshen up a shirt or pants crease.
If you're looking to dramatically increase the storage capacity, and functionality of your closet, islands offer a great way to do that. They can be built in any size, short of tall, as well as crafted with drawers, shoe storages, cubbies, hanging and more.
3. Accessories Perfect Your Closet Organization System
Accessories can take an average closet and turn it into something so organized, you'll hardly believe that everything fits in the same place where half as much fit before. Drawers aren't just for chests; they work especially well when built into a closet. You can have them in many different sizes, too, even with a velvet liner for emptying pockets at the end of the day. Hampers work perfectly in custom closets, and so do smaller accessories such as tie and belt racks, pull-out mirrors that swivel, and baskets for shelves and cubbies.
But perhaps the most convenient of all accessories is the pull-out valet bar. Hooks are terrific for hanging up one or two items. But with a valet bar, you can remove a whole outfit or suit and hang it on the bar, which makes getting dressed in the mornings a quicker endeavor. They're perfect for hanging all the clothes you bring back from the dry-cleaner, so you can remove the plastic and place the items where they belong. Everybody loves them and wants more than one!
Organizing a bedroom closet takes a whole new mindset when you work with the experts at the Closet Works. You might be accustomed to squeezing some clothing together on a rod and stacking everything else up high on a teetering shelf, but we offer something different. Our custom closets are designed with you and your belongings in mind.
Think about your closet as a blank slate where anything is possible. You're not bound by the old organization rules, not when you can have built ins, rods that move, jewelry organizers, and practically anything else. Ready to learn more? Download our ebook: Transcendental Organization and find out what you've been missing.