3 Fresh Ideas for Incorporating a Murphy Bed into Your Space
In the current economy, scoring a multi-bedroom home for a fair price can feel like a challenge. But what do you do when you need more space and it feels like you've already maxed out every square foot of your home? 
Murphy beds can make any room in your home a multi-purpose space. Before you take on the huge task of packing up your home and upsizing to a new one, determine if you're utilizing all of the space your current home has to offer. 
Mattresses consume a sizable amount of already limited space. If your space functions as a bedroom and office, playroom, or hobby room, the room can begin to feel crowded. A Murphy bed can accommodate any size mattress, from twin to king. This is the perfect solution for anyone looking to save some space. 
Below we'll focus on presenting ideas for the crafter, the WFH professional, and the parents of young children. 
Create a multi-functional space for rest and play 
Do you have an artsy crafter in your home? Are you an artist? A custom craft room isn't far out of reach. Clearing space to craft from the kitchen table isn't always realistic. Keeping supplies organized and having to pack them up at the end of every project session can even make crafters hesitant to fully express their creativity. 
With a custom Murphy bed built to fit any area of the home, you can easily access supplies and tuck them away as needed. A sliding-door bookshelf Murphy bed allows crafting supplies to sit comfortably on the shelves of the bookcase—from Cricuts and glitter to crafting tools and finished projects. You simply pull the doors apart to reveal a bed custom fit for any mattress. Forget renting an expensive studio space—you can have one in your own four walls!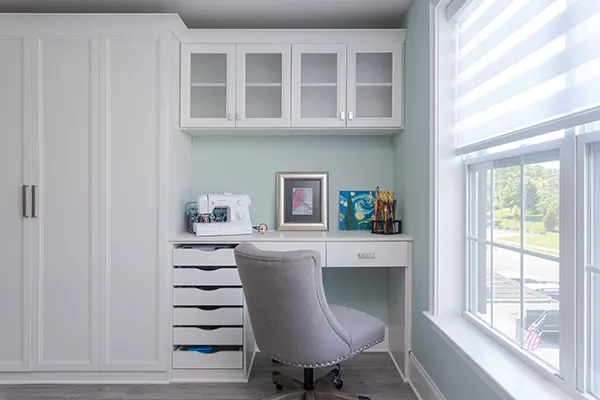 For those who make their homes their offices
Studies show working from home increases productivity. But how can you, as a working professional, maximize your workday? If you can work from a kitchen island or coffee table, imagine how much more productive you could be in your home office (and no, you don't need another room to make this happen!). 
At The Closet Works, we can create a Murphy bed unit that is fully functional for your professional life in only 100 sq ft of space! With ample shelf space and a beautifully designed desk, this is the perfect place to crack open your laptop and get your work done. When it's time to clock out, simply pull down your Murphy bed, which fits horizontally or vertically and log off for the night.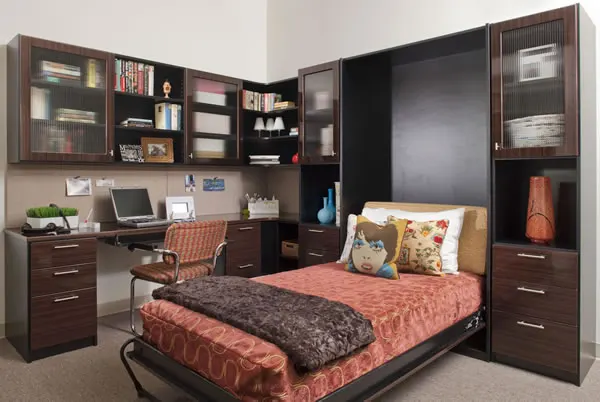 A cozy home with busy children 
Every parent dreams of having a dedicated play area for their children. A place children can grow, learn new things, and explore in the safety of their home. 
A bedroom can be a great play space for kids, especially during the day when the bed flips up and has a total floor space requirement of 8 sq ft! A bookshelf created to hold the child's favorite books and knick-knacks can also function perfectly in the playroom setting. 
When it comes time for bed, simply pull your child's bed down from inside the shelving unit, and tuck them in for a good night's sleep after a busy day of play. 
A custom Murphy bed unit is perfect for everyone—who couldn't use a little more space in their day? At The Closet Works, our Murphy beds are custom-designed for you and your family and constructed with the highest quality materials. Every Murphy bed we create is built to last for years to come, with slats created to protect the frame, instead of traditional boards. Rest assured knowing you can have it all. 
Click here to schedule your free consultation, and tell us how you plan to use your extra space!