5 Home Organization Myths—Debunked!
Being an organized person and living in a home where everything has its own place isn't the stuff of pipe dreams – it's a way to take control of your surroundings and make life a little more stress-free. But there are plenty of roadblocks on the path to living a more organized life. Some of them are myths that people often tell themselves simply to avoid moving forward.
Here are five home organization myths and facts.
1. I don't have the time to stay organized.
2. I need a bigger house.
3. Organization is a once-a-year project.
4. Everything has to be perfectly organized all the time.
5. I'll get it tomorrow.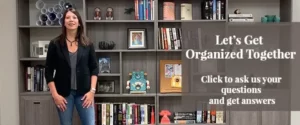 Myth: I Don't Have Time to Stay Organized
Fact: When you're not organized, you easily add time onto your daily tasks. Think about how long it takes you to get out the door in the morning when you can't find what you're looking for—whether it's a piece of clothing, your car keys or your kid's school bag.
On the other hand, if you create an organization system that works for you, everything will have its own place. You won't need to rummage through a junk drawer—your keys will be in the same spot you always keep them. You won't have to look through the pile of shoes on your floor—they will be on their own shelf or in a cubbie. And you won't have to help your child look for his backpack before school—it'll be hanging on its own entryway hook.
Myth: I Need a Bigger House
Fact: If you've lived in your house for a number of years and feel like you're running out of space, you've likely just accumulated a lot of stuff. Rather than giving up and moving into a bigger house, learning to organize your belongings can help you use space more effectively.
Learning how to first declutter and get rid of or donate the things you no longer need is step one. Step two is deciding on an organization solution for different spaces in your house. You might be able to get more out of your reach-in closet by adding custom, adjustable shelves, wire baskets and cubbies. Your mudroom might benefit from storage for each member of your family and a number of hooks for coats and bags. You could also transform your home office by adding file drawers, shelving and a spot for your printer. All of these ideas can help you better use the space you do have, rather than giving up and buying a new house.
Myth: Organization is a Once-a-Year Project
Fact: Organization is an ongoing task that requires far less time if you find a system and stick to it. Rather than spending an entire weekend cleaning out your closet each year and letting it get cluttered to the point of complete disorganization, if you develop a system, create a schedule for organizing, and find a place for everything, you'll spend just a few minutes each day picking out clothes.
The same goes for other spaces in your house like your garage, mudroom and pantry. Spend some time now developing a system and get back all that time you'd spend overhauling each room every year.
Myth: Everything Has to be Perfectly Organized All the Time
Fact: The point of getting organized is to solve problems in your life. For example, if you spend time rooting through a pile of shoes each morning trying to match a left and a right, you should consider finding a solution. The same goes for important papers. If you can't find important receipts when tax time rolls around, you should consider a filing system for papers. You don't need an organization solution for each room or space in your house, but you should work to solve areas that get messy and cause you stress.
Myth: I'll Get to it Tomorrow
Fact: Procrastinating now will make organizing more difficult in the long run—the longer you wait, the more cluttered and disorganized your spaces will get. Take action and assess what places in your house need to be organized. You'll feel satisfied knowing that everything has its own place and your daily routines will be a little less stressful.
Part of creating a more organized home is overcoming obstacles along the way. That includes the realization that some of these home organization myths might be holding you back. Now that you know the truth, you can start focusing more on organization.
If you're ready to get organized, we can help with a custom solution. Just reach out to us for a free consultation.