5 Home Organization Trends to Watch in 2017
With hectic schedules, long work days and busy social lives, the last thing you want to do at the end of your day is work on organizing your home. What you may not realize though, is that spending time on home organization can reduce stress, boost productivity and increase happiness. Which is why there is an increased focus on home organization especially as we move into a new year, and new resolutions.
Like any industry, there are trending projects and organization styles that can both help you manage your stuff and keep your home looking neat, tidy and stylish.
Here are five home organization trends to watch in 2017.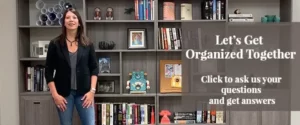 1. His-and-Hers Closets
One of the biggest trends is a his-and-hers closet where all of his things are exactly as he (and she) likes them, and all of her things are as she likes. Since a his-and-hers closet provides features that work for each person's needs, the best way to create a closet storage area for two unique people in one space is to get a custom solution.
The Closet Works can create a custom closet organization solution that offers storage for two people's habits and styles. This means that storage needs for ties, suits and dress shoes can fit seamlessly along with storage needs for boots, heels, handbags, dresses and jewelry.
The great thing about this trend is that with a custom closet solution, designers can take two very different approaches to organization and blend them together seamlessly because everything is custom.
2. Dedicated Storage
Obviously, clutter is out, but this doesn't mean you have to throw out, or donate everything. It simply means that if it's worth keeping, you should find a place for it.
Without dedicated storage for your stuff, you (or your spouse, or your kids) will get home from work, school or practice, and put their work bag, backpacks, shoes, coats and whatever else they're hauling wherever they please. But if everything has a home in a convenient area, it's much easier to put things away.
Of course, you can DIY this with pre-made organizers. However, you have to learn to live within the constraints based on the dimensions of those pre-made containers and your needs. That might mean you fall a cubby short or you just don't have enough hooks for your family's needs. But when you approach it from the opposite direction, the system is designed for your things and the way that you live. That makes a lot more sense.
3. Open Storage
Many traditional storage solutions conceal what's being stored. And in some parts of your home, that's probably still important. But open storage is becoming more and more popular. If you're planning to reorganize parts of your home in 2017, you might want to consider open storage.
Open storage in a closet can show off your handbags and your favorite outfits. Open storage in a craft room or garage can also make it easy to grab things and go.
And if what you're storing needs some sort of protection or you'd like to keep the dust away, you can design your storage solution with glass doors with clear, patterned or textured inserts, which can give you a more stylish look.
Open shelves, pull-out baskets and other storage accessories make finding your things much easier.
4. Closet Islands
Closet islands are an excellent addition to further organize your walk-in closet because they provide added storage solutions both above and below the counter top.
Maximizing this compact space with drawers below to organize pieces such as blouses, pajamas and bottoms and countertop storage for accessories, perfumes and cologne make this space truly functional and very luxurious. The counter space in your walk-in closet can also help you put together outfits and accessories, and even fold laundry.
An island in your closet is an opportunity to create a truly high-end feature. You can design the closet island with flat panel cabinets and a quartz countertop for a very contemporary look, or choose something more ornate such as hand carved cabinets and marble tops.
5. Multipurpose Guest Rooms
It's a common problem: You've got family visiting from out-of-town, or you want your friends to stay at your house when they visit you. But many people don't have the extra space they can dedicate for a guest room. Instead of investing in a home remodel or creating a guest room that will get used just a few times each year, you can maximize your space and give guests a place to rest their heads with a Murphy bed.
Murphy beds have come a long way in their design, offering an ideal solution to transform your home office, craft room, playroom or den into the space you need for extra sleepers. Depending on your room design or shape, a custom Murphy bed can be installed vertically or horizontally, allowing for artwork, bookshelves or even a TV to be placed on the wall above the bed.
In addition, there are a number of new options for how your Murphy bed folds out—for example, a Murphy bed with bi-fold doors provides storage on either side of the bed.
Most importantly, they can help you to use the space you already have more efficiently and at a fraction of the cost.
When it comes to home organization and design, many trends come and go, but some eventually turn into design classics. This doesn't happen by accident—when an organization technique works, it sticks. Most of us are struggling to keep everything organized in our busy lives while also trying to make our homes as attractive as possible.
Accomplishing both seems like a virtual impossibility, but it doesn't have to be that way. All it takes is a willingness to step back from the situation, assess what your organizational needs truly are, and working with someone to come up with a solution that works for your life.