5 Organizational Tips for Truly Great Closets
Great closets are about so much more than just size. In fact, even the largest closets can quickly morph into a rather scary jumble of clothing, shoes and accessories when little thought has been given to how the items are organized within the space. Closet organization can become even more of a problem if the ones in your home came equipped with only a traditional rod and an obligatory shelf or two.
The following tips are designed to help you tame troublesome closet issues and restore the interior to a much more welcome zen-like state.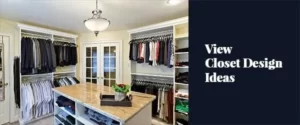 One: Sort, Recycle & Gain Space
When the time comes to embark on a serious closet organization mission, the first step is always to conquer the items that have accumulated in the space over time. Start by sorting through your wardrobe with firm resolve to keep only the items that you wear or have plans to wear within the next year. Recycle your unneeded and unwanted clothing by donating it to a local shelter or hosting a neighborhood clothing swap with other families. In this manner, you can help someone else and gain extra space, too.
Two: Make Closets Off-Limits to Non-Wardrobe Items
Once you have sorted through all your clothing, shoes and accessories and dealt with the excess, you may discover that your closet has been hiding several non-wardrobe related items such as vacuums, sporting equipment, old tech gadgets and more. Now is the time to find a dedicated space in another part of your home or garage for these items or consider recycling them, as well. The space you gain in this manner can be tremendously helpful to your closet organization project.
Three: Use Your Individual Storage Needs to Design the Most Efficient Closet
Now that you have pared away the excess, you are ready to begin organizing your closet space so that it fits your needs. To do this, take a look at the items you are keeping to determine what type of clothing you have and how the items will need to be stored. For example, if most of your wardrobe consists of jeans, sweaters and other casual attire, shelves, drawers or bins will be easier to use and keep organized than hanging storage. However, If most of your things are dressy items, such as business clothing or formal wear, you will need to devote more of the space to hanging storage.
Four: Incorporate Comfort and Convenience
Any closet organization plan is not complete without the addition of features that will add comfort and convenience to your space. Here are some ideas to consider:
If space allows, consider adding a dressing table with adequate lighting and storage for applying cosmetics or styling your hair
Add a comfortable padded bench or stool to aid in dressing and (if the space is small, consider using a sturdy folding stool that can be folded flat and slid under the bottom shelf or hung from a hook on the closet door when not in use)
Install good lighting throughout the space to make it easier to find the items you need and easier to put them away later
Five: Consider Ease of Use
Even though your home builder might have placed the closet rod at a standard height, it may be uncomfortable for people who are short or those who have some type of disability. Any closet organization project should always take into consideration any specific physical needs that the user may have. In many cases, dropping the height of the clothes rods can actually create additional space  above the closet rod. This space can be used as shelved or bin storage for clothes and wardrobe items that are used rarely or seasonally.
For even more great ideas on closet organization, visit The Closet Works, Inc. A leader in the home closet design and organization industry since their founding in the early 1990s, they take pride in helping people maximize their closet spaces with beautiful, efficient closet organization products, as well as custom furnishings for home and office.