5 Ways to Get More Space Out of Your Kitchen Pantry
When it comes to storage or organizational issues at home, your kitchen pantry can often be a problem area – but why? Every trip to the grocery store creates the potential for more havoc, particularly when a busy family cannot find the time to effectively clean out or tidy up the space before adding more to it. Although the pantry may be your storage problem, it doesn't have to stay that way.
Here is how you can ensure that you are getting the most out of your pantry's storage space.
1. Make bulk purchases carefully
2. Consider roll-outs
3. Think small, in order to get the big picture
4. Get creative
5. Don't cut corners (when it comes to storage space)

*image courtesy of Neat Method Philadelphia
1. Make Bulk Purchases Carefully
Who doesn't love to buy in bulk, just think of the money you're saving? However, if you're a bulk shopper, you may find yourself more often than not buying non-essential items in massive quantities, thinking that you've just gotten a great deal. If this practice describes you, you're not alone, but you might want to ask yourself how often perishable groceries get tossed and thrown out because the expiration date has expired. In cases like this, not only are you potentially wasting money, but your expiring groceries are also wasting valuable pantry space. Make life easier on your wallet and on your pantry by choosing which items you purchase in bulk to make that decision really useful.
2. Consider Rollouts
Having easy access to your pantry items, in addition to being able to see your pantry items, helps ensure that your space is maximized and that your groceries will be used. To this end, few pantry storage solutions are better than a pantry with rollouts. With rollouts, organizing your pantry items becomes a breeze, and the entire family will be grateful. This eliminates the "out of sight, out of mind" problem of traditional pantries that wastes space and wastes your groceries once they expire.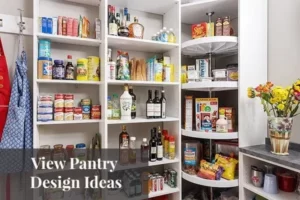 3. Think Small in Order to Get the Big Picture
Paying attention to small details pays off in a big way when you're organizing your pantry. Custom pantry solutions — such as narrow shelves that are designed to fit behind a door — can create a ton of extra storage space! Even if there is only space for shelves with 6″ or 8″ depth, you will be amazed at how many pantry items will fit in such a small space. Best of all, these items will be more accessible, ensuring that what's stored there will indeed be used.
4. Get Creative
A design professional can work with you to think of even more creative solutions for your pantry's storage space. One great example of a seldom used but often accessory is to create a roll out section with vertical slots, enabling easy access to cookie sheets, baking pans, serving pieces and the like. Adding vertical storage can permanently solve the tray and serving platter issue in your pantry. Similarly, your pantry can effectively accommodate accessories for your kitchen and dining room tables. Implementing a rack for tablecloths and a custom drawer for napkins and napkin rings will make it easy to keep track of all your tableware. Alternatively, you can add slide out flat shelves to store sets of your favorite placemats, dedicating each shelf to a unique placemat.
5. Don't Cut Corners (When it Comes to Storage Space)
Lastly, don't forget about the corners of your pantry. Adding custom designed corner shelves can be the final touch that makes all the difference. Custom designed pie or "L" shaped shelves will maximize your pantry space and serve as the perfect storage space for large items like blenders and mixers.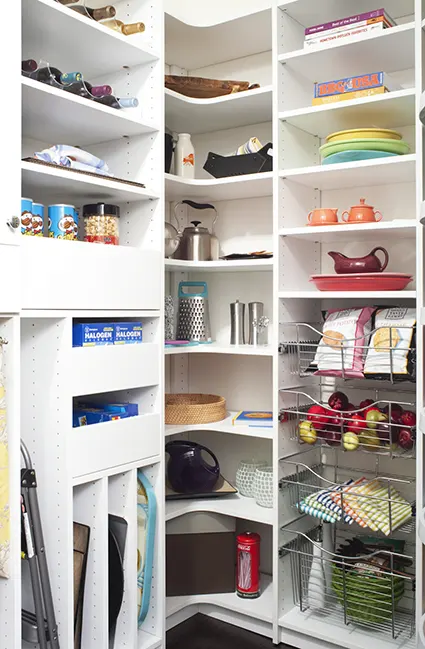 Interested in learning more about kitchen pantry ideas or The Closet Works' custom organization solutions? Contact us today for a free design consultation with one of our professional Designers.