6 Closet Organization Problems (And How You Can Solve Them)
If you spend too much time each morning trying to pick out an outfit to wear to work and then struggle to find the right shoes, belt, jacket and earrings—you probably already know that your closet is disorganized. But did you know that a disorganized closet can create unnecessary stress and daily frustration in your life that you simply don't need?
Don't worry, we've got some simple fixes to make the space where you store your clothes, shoes and accessories easier to navigate each morning, transforming your daily routine from frantic to peaceful.
Here are six common closet organization problems and how you can solve them.
1. Your Closet is Jam-Packed
If you suffer from closet clutter problems, you're not alone. A closet that's stuffed to the gills with clothes, shoes, handbags and more can make finding anything a headache. To alleviate the pain, it's time to give your closet a good purge.
To breathe new life into your wardrobe and create some more space in your closet, remove items that meet any of these descriptions:
Pieces you haven't worn for a season (or more)
Items that are a bit too tight
Anything that has a stain, rip or tear (that you know you'll never mend)
Pieces that don't look good on you
Anything that is lower in quality than what you wear now
Any shoes that are too worn out to repair
Clothes that you no longer want or need, which are still in good shape, can be donated to those in need. Your newly-purged closet will allow you to see only the clothes you want to wear, making your morning routine a little easier.
2. You Can't See Your Clothes, Shoes or Accessories
It's often overlooked, but everyone should give some thought to effective lighting in a closet—especially if you're working with a small space. Adding lights to your reach-in or walk-in closet will make it so much easier to find exactly what you're looking for—whether you're getting dressed in dim lighting each morning or you just need to find a pair of shoes resting on the floor.
If you've got a large space like a walk-in closet, puck lighting above a countertop or hanging storage can illuminate your clothes. And energy-efficient LED lights can be added to the inside of a cabinet so you can easily see what's inside.
3. There's a Pile of Shoes on Your Closet Floor—Every Day
In most cases, it's impossible to keep shoes organized when you simply store them on the floor of your closet. However, a flimsy shoe rack that your shoes fall off of every day is also not doing the job. Instead, it's adding stress to your morning.
There are a number of ways to solve this problem, depending on your preference. For smaller shoes like sandals and flats, cubbies provide the right-sized space to store just a pair so they don't get separated. For sneakers and other everyday shoes that might not fit in cubbies, flat shelves can keep them organized.
Slanted shelves put your shoes on display; a shoe fence on the leading edge of the shelf or a heel catch at the back of the shelf hold shoes firmly in place.
Finally, if you've got cloth or suede shoes, keep the shoeboxes or invest in plastic bins. You can store these shoes on a shelf so they're out of sight and free from dirt and dust until you need them.
4. Your Knits and Sweaters Have Hanger Marks on Them
There's nothing worse than finally finding the perfect knit top to wear and finding it's got unsightly hanger marks on the shoulders.
Sweaters and delicate knits don't belong on hangers—they should be folded on a shelf so they keep their shape. Clearing out your knits and adding shelves for folded tops will not only make more hanging storage, it'll also save you from the disappointment of having to find another top in the morning.
And speaking of hangers—it's time to invest in some quality hangers with a non-slip grip. Using the same, quality hangers throughout your closet will not only keep your clothes hanging, but also improve aesthetics and maximize space.
5. You've Got Unused Space
No matter how small your closet is, you could probably use the space more efficiently. If your closet consists of one hanging rod with a shelf above it, you've got enough space to reconfigure your closet and add another rod below the first so you can double up storage.
If you've got a small walk-in space, you might also consider adding a small dresser to create storage for small items.
To really get the most out of your unused space, you might want to go the custom closet route. Working with a professional designer who understands organization can give you the best shot at maximizing your space and create storage for all of your clothes.
6. You've Got Drawers, But They're Too Messy
Most drawers probably pull double or triple duty storing clothing like socks or workout gear, or belts and ties. This inevitably means you have a hard time finding the right socks or the matching belt when you're getting ready.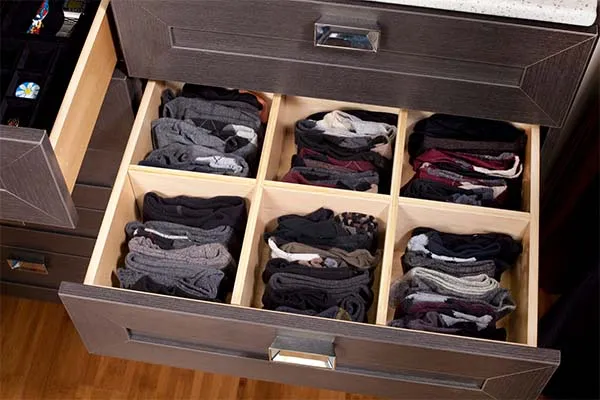 Organize your messy drawers by adding drawer inserts to keep small items in their place. You'll have a spot to store watches or jewelry, and a place to neatly coil up belts or ties. As an alternative, you can also use a proper tie rack or a belt rack to free up drawer space and keep your accessories organized (and not hanging on a misshapen hanger, only to discover that they've slowly slid off the hanger into a heap on the floor).
Taking some time to solve these closet organization problems will help you enjoy your mornings a little more. If you're interested in the ultimate organization solution with a custom closet, reach out to us for a free, in-home consultation.