6 Features that Will Add A Little Luxury to Your Custom Closets
Luxury means many different things to different people, especially when it comes to custom closets. Your idea of a luxurious custom closet might be drawers, cabinets and components with fine finishes that are made with precision and built to last. Or maybe you envision ingenious accessories and custom design that raises the standard from an ordinary closet to a boutique-like space.
The beauty of The Closet Works is that you have numerous choices for custom design, and it's surprisingly affordable. Settling for a so-called "big-name" closet company usually won't save you money or give you more options. We're a true custom closet designer and manufacturer that's close to home, and we offer genuine value.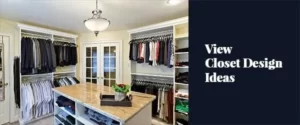 Here are just a few ways that we can create a beautiful, luxurious custom closet that fits your home and lifestyle.
1. Customized bench with upholstered cushion
2. Hanging tie rack
3. Tilt-out laundry hamper
4. Slide-out shirt drawers
5. Granite-topped center island
6. Custom closet drawer and inserts
1. Customized Bench with Upholstered Cushion
A custom bench helps your walk-in closet perform more like a dressing room. While it's a luxury, it's certainly a smart one. Yours can be a straightforward and no-frills spot for putting on and taking off shoes and socks, or we can combine a bench with storage in one unit with seating on one side and drawers across the back. Add a custom-upholstered cushion and backrest, and you've got a beautifully functional addition that makes your closet special.
2. Hanging Tie Rack
Whether you're a tie aficionado or you only have a few, a hanging tie rack keeps neckwear separated, easy-to-find and free from creases and wrinkles. Some of our tie racks slide out from a wall unit, similar to a drawer. And some mount on the closet unit or wall as a fixed rack. Still others mount on a wall and tilt in or out to combine space conservation and easy access. They're available in a wide range of finishes, too.
3. Tilt-out Laundry Hamper
Tilt-out laundry hampers keep previously-worn clothing out of sight and don't take up any valuable floor space outside the closet. There's no need for a separate hamper when we can design one that tucks neatly into your closet system. When it's closed, the laundry hamper doesn't give itself away. It looks like any other drawer or door front. But when you need the hamper, it tilts out for easy access.
4. Slide-Out Shirt Drawers
You'll probably want hanging bars in your closet, but what about shirts and blouses that come from the laundry already neatly folded? Slide-out shirt drawers give you a handy spot that functions much like an exclusive clothing store. That saves space on the bar and keeps your shirts and blouses as crisp as they were when you brought them home. These shallow drawers are also great for any folded shirts, including the ones you launder and press at home. Add a custom-upholstered tack board to the wall above the drawers, and you'll have a perfect place to keep mementos, laundry receipts and notes.
5. Granite-Topped Center Islands
The reason islands are so popular is that they give you extra work space — but they aren't just for kitchens and pantries. In a closet, an island creates a spot for folding clothes before putting them away, matching outfits, setting out jewelry, and anything else that you'd ordinarily have to place on the floor or carry to another room. Our custom granite tops come in a beautiful range of colors, too.
6. Custom Closet Doors and Inserts
While it's true that a custom closet means you get the right components in a configuration that fits your home, it also means that your choices in finish and door style are vast. The Closet Works offers several different finishes in wood grains and solids. And if you really want to make your closet pop, choose from several different styles in glass door inserts.
When you partner with The Closet Works, you get years of experience from a local company committed to overall value. Our designers come to your home and listen to what you want and need. From there, we create a personalized plan that fits your space with precision.
If you've imagined luxury pieces in your custom closet but weren't sure how to get them, we're your answer. We built to suit using the fabrics, finishes, inserts and custom accessories that make your closet storage dreams come true. And it bears repeating: You'll be amazed by how affordable a custom luxury closet can be. Schedule your free design consultation with The Closet Works today.