6 Steps to Pantry Organization for a Relaxed Holiday Season
Why is an organized kitchen pantry crucial to a relaxing holiday season? Homemade food and meals are key during this festive time of year, where family recipes are brought to life. In order to prepare these meals efficiently and in an organized manner, a decluttered kitchen pantry is a must. Searching for cookware, baking tools, spices and canned goods (just to name a few items) takes time away from making something to eat, whether it be cookies, specialty drinks, a succulent turkey or anything else.
It goes without saying – we've got you covered with our 6 steps to pantry organization! Although we do recommend you follow these steps in order, this checklist is now in your able hands. Have a happy holiday and a tasty New Year!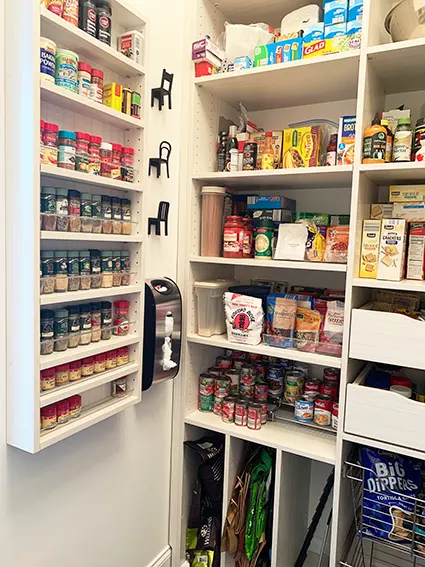 Step 1: Move everything from your kitchen pantry out and onto your kitchen counter(s).
Depending on the level of clutter you currently have in your kitchen pantry, starting with a blank slate is ideal. This gives you a chance to do a complete overhaul of your method of organization and assess what storage solutions you're in need of, which can always be purchased in the future if you're unable to source or invest in them now.
Step 2: Clean each shelf and the inside of drawers/roll-outs.
What's better than a blank slate? A clean one! How do you make sure you clean every inch of available storage space? First, save the floor for last (we'll get to that step later on). Work clockwise and start with dusting the highest shelves, working your way down and around the space until you're back at the beginning, where you started. As you disturb the dust, it will fall – and you don't want to have to clean twice. After all of the shelves are dusted, you can now apply an all-purpose cleaning solution that's food safe. Again, you will start with the highest shelves and work your way down in a clockwise manner. Lastly, tackle the inside of drawers.
Note: Take this opportunity to wipe down large items like mixers, blenders, crock pots and trays.
Step 3: Organize items on the counters as you wait for your pantry shelves/drawers to dry.
This is important because you don't want your items to stick to the shelves, which can happen when the shelves are wet. You also don't want the color from your food products to bleed onto your shelves, which also happens when you prematurely place items back.
Creating clusters on your kitchen counter or breakfast table – whichever workspace you prefer – gives you more room to work than the smaller confines of a pantry. Put cans with cans, chips with chips, trays with trays and so on – be as meticulous as your level of organization needs in order to provide you with easy access and peace of mind.
Step 4: Once your kitchen pantry items are organized, move the items back in.
Since you already grouped these items on your workspace, all you have to do is plug them into their homes. Start with the top shelves and work your way down through each section.
Step 5: Apply labels to your shelves, drawers, baskets and bins, if they are needed.
This option is for those who have a high level of organizational tolerance, or, who may be forgetful – and there's nothing wrong with that!
While you were organizing your pantry items for the holiday season, you might have noticed some foods have expired, or you may realize you no longer eat them. The same can be said for cookware and baking tools – maybe they're damaged, or you haven't used them in months, maybe years.
The expired or damaged items – toss them in the trash! The non-perishable unopened foods, however, and the baking items you no longer use can be donated to a local food bank or another organization that will accept them.
Step 6: Wash the floor of your pantry.
This is your final step! Sweep or vacuum and follow that with mopping or Swiffering.
Once you're done, close the door on your pantry – or put up a WET FLOOR sign, and congratulate yourself on a job well done.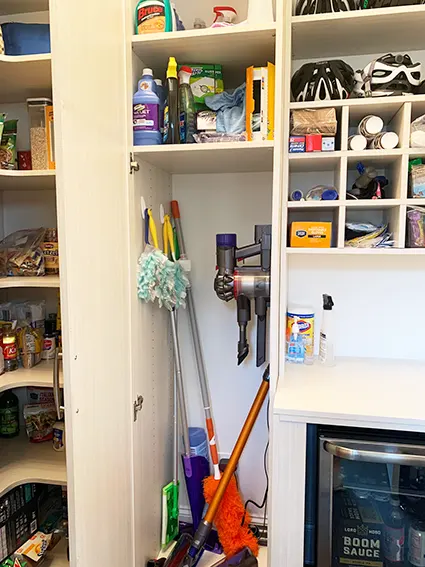 Interested in learning more about products or organizational tips from The Closet Works for this holiday season? Request a free consultation with one of our Designers today or check out our blogs today.