6 Ways Organizing Your Home Improves Your Life
An organized home creates a positive atmosphere that filters through almost every aspect of life. When your home is in order, it can boost your health and relationships.
It boils down to reducing stress. That's why tidiness is such a healthy thing. While the points below may seem overblown, effective organization does play an essential role in improving your daily life. So read on to learn how and reap the benefits!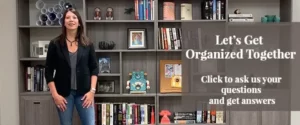 Here are some of the numerous benefits that you can expect from being organized.
1. Lower Stress
2. Better Social Life
3. Healthier Sleep Patterns
4. Less Consumerism
5. Improved Diet
6. You Will Save Time
1. Lower Stress
If you lose your purse every day and your kids have trouble finding their shoes, that makes for a lot of stress and frustration. A lack of organization takes your focus away from where it should be and places it on finding things that shouldn't be lost in the first place. But with an organization system that's tailored to your home and the things that you own, harried mornings become a thing of the past.
2. Better Social Life
Have you ever needed a tidying marathon just to have a few people over? If you have, then you know how a cluttered home makes a spontaneous get together that much more difficult. But when you have a place for everything, it's easier to think about welcoming friends instead of rushing around to clean up. You will also have more time to spend with family and friends and will enjoy those relationships all the much more, rather than spending time moving items around.
3. Healthier Sleep Patterns
Can organization really help you sleep better? As featured in this Today article, The American Academy of Sleep Medicine thinks just that. According to their sleep study, people who doze in a cluttered room are at a higher The American Academy of Sleep Medicine thinks sorisk for developing hoarding disorder. In an online survey of 281 participants for sleep quality and risk factors, 30% scored at high risk and reported being tired the next day. By clearing any clutter, you will be able to relax and get a better night's sleep. Simple things you can do daily, like having a laundry basket for dirty clothes and putting clean clothes away, will make a big difference.
4. Less Consumerism
You're not the first person to buy the same thing more than once for no reason besides misplacing the original. That's throwing good money away, but simple organization can prevent this from happening. You shouldn't need to buy another belt because you can't find your old one. The root of the problem is actually that you don't have a single place to store your belts. The same applies to everything from garden supplies and tools to flashlights and your kids' toys.
The more we consume, the more space items take up. By not having or removing unnecessary items, space is created that can be utilized for creative organization or an entire new inspirational project or design such as a craft or hobby room. Your ability to focus will also increase because you will be less focused on that pile or papers or clothes in the corner of the room, and more on the task at hand.
5. Improved Diet
It might seem like a stretch, but researchers at the Carlton School of Management, University of Minnesota, say that organization is linked to healthier food choices. This effect is about the mindset of an organized person and household, but it makes literal sense in the pantry. When healthy snacks have a prominent place in the pantry, they're easier for everyone to grab.
6. You Will Save Time
If you ask most people today, the one thing they wish they had more of is time. The more organized you are, the less time you have to spend maintaining, tiding and organizing. That means more time for tasks that you enjoy and, as a result, increasing happiness and decreasing stress. Think about all the wasted time looking for something and not knowing where the item may be stored or located. That includes your keys and cell phone! Just spending 15 minutes a day on simple things can you save a big game of hide and seek later on when you cell phone is ringing and you are trying to find it.
All of this is why the Closet Works believes so strongly in creating the smartest storage and organization systems available. Organization isn't merely attractive or nice — it has a lasting effect on your well-being.
When you schedule a free design consultation, you'll find endless possibilities for organizing every part of your home.