8 Closet Organization Tips that Take Five Minutes or Less
Organizing your closet will shave valuable time from your morning routine giving you a few extra minutes in the morning to contemplate your day, grab a bite of breakfast, or spend with your family before getting busy with the business of the day.
But who has time to devote to organizing a closet that is long overdue a thorough session that includes purging and organization efforts? You know what they say about eating elephants, right? One bite at a time.
These closet organization tips will help you get your closet organized and efficient in quick five-minute bites.
1. Get everything off the floor
Even the shoes. The floors need to be free and clear of all debris, clothing, discarded hangers, belts, scarves, bags, and shoes. One five minute session should allow you to get everything up and may allow you to clear a few of those things (anything that hasn't been worn in the past year, is damaged, or no longer fits at the very least) out.
2. Add Hooks to the Back of the Door
Hooks are convenient for keeping scarves, hats, and handbags off the floor. This is just to get the organization process going. The hooks are not meant to be a permanent solution. With that in mind consider using brands that remove easily when they are no longer needed.
3. Pair Set Pieces Together
Matching suit skirts and jackets, then hanging them together is a huge time saver. It also gives you an opportunity to make sure all items are paired properly and take note of any maintenance or repairs that need to be made.
4. Consider Custom Closet Design
Custom closets are built to meet your unique and individual needs and are more affordable than most people realize. Of all the closet organization tips available, this is perhaps the most effective and fastest. Once you make the decision, contact us and let us help you create the perfect custom closet for you.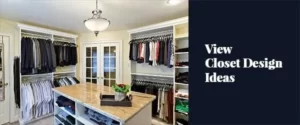 5. Create Shoe Storage off the Ground
One of the most important closet organization tips is to keep the floors clean and clear. This includes shoes. Off the ground shoe storage is one things you must demand whether you choose custom closet design for your closet or purchase shoe storage on your own. Placing shoes may be a chore but unless you're Imelda Marcos, it shouldn't take longer than five minutes to arrange your shoes appropriately.
6. Separate Clothes by Season
The ability to look in the closet and quickly select weather appropriate items will help reduce the time it takes to plan your day even more. Another great things to include in a custom closet design is storage for seasonal accessories too. This includes scarves, belts, jewelry, and handbags.
7. Get Rid of Everything that Doesn't Belong
There are things that often get stashed or stowed in closets simply to get them out of sight. If it doesn't belong in the closet, it needs to go. It's only serving as clutter and this clutter robs the closet of its efficiency. Take this step once a week afterward and it should never take more than 30 or so seconds to complete.
8. Donate Lavishly
If you have items in your closet that you're not wearing regularly, ask yourself why. If it's a matter of not liking the item, not liking the way you feel the item makes you look, or the item having unpleasant memories, donate it. Someone else could use the item and it will no longer be crowding your closet.
Custom closet design allows you to do more with even a little space in your closet. Before you get around to designing the closet of your dreams, though, make use of these eight closet organization tips for a smoother transition.