9 Simple and Quick Home Organization Tips
If you're constantly misplacing one of your favorite shoes or spending too much time getting the kids ready in the morning, help is on the way. Organization, by definition, is about managing the things that you own instead of letting them dictate how you live.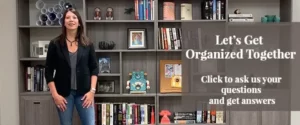 This list of nine quick organization tips for your home can help make your life simpler by giving you back that control.
1. Keep Instruction Manuals And Warranties In Binders
2. Make Shoes Easy To Spot
3. Organize Kids' Weekly Outfits In Cubbies
4. Keep Home Improvement Ideas Organized In Your Home Office
5. Use Your ABC's To Organize The Kitchen
6. Pull Drawers Together Using Dividers And Inserts
7. Reduce The Paper Clutter
8. Designate Spots In The Mudroom Or Entryway
9. Conceal Laundry Room Items
1. Keep Instruction Manuals and Warranties in Binders
Instead of tossing out the instruction manual after you learn the basics on how to use a new purchase, keep it and other manuals handy in a 3-ring binder for future reference. The same goes for warranties on everything from a new blow dryer to power tools. This way, they'll stay neater and easier to locate than if you tuck them into a big drawer or box.
2. Make Shoes Easy to Spot
Give each pair of your shoes a home of its own with expertly designed shoe organization. Angled shelves make everything easy to see. Shoe fences are also available in a variety of finishes to match your closet design and decor. Cubbies are an ideal place to store sandals and flats, keeping each pair of shoes neatly organized in individual compartments. If boots are your thing, check out the Boot Butler that lets you hang several pairs so that they're visible in your closet.
3. Organize Kids' Weekday Outfits in Cubbies
Choosing just the right jeans and shirt plus socks and hair bows can be a time-consuming task. But if you organize a week's worth of complete outfits in advance, mornings are a whole lot easier. A stack of cubbies inside the closet allots separate clothing and accessory space for every day of the week.
4. Keep Home Improvement Ideas Organized in Your Home Office
Have you ever painted a room and then forgotten the name and formula of the perfect color? That won't happen if you keep paint chips in a home improvement file in your home office. It's the perfect way to keep track of materials and supplies that you've already used, plus pictures and samples of others that inspire you.
5. Use Your ABCs to Organize the Kitchen
Leave it to the home organization experts at HGTV to come up with a way to make your kitchen more functional. Their ABC method makes a lot of sense because it categorizes your small appliances, cookware and everything else according to how it's used.
A: Everyday use items. Store in the easiest to reach spaces, such as the countertop, easy-access cupboards, fronts of cabinets, top drawers and shelves that don't require a lot of reaching or bending.
B: Often-used items. Store within easy reach, but don't take up everyday use spots. Good locations for the B group include lower or higher shelves, middle drawers, and the back of cupboards.

C: Seldom-used items. If you only use your slow cooker or stand mixer around the holidays, there's no reason to keep them handy. Store things that you rarely use at the highest, lowest and farthest reaches of your kitchen.
6. Pull Drawers Together Using Dividers and Inserts

The sock drawer and the kitchen junk drawer can get out of hand fast. It's the same for any space where you store a lot of smaller items together. Insert drawer dividers, and you'll have compartments to store small garment items together which often get separated, such as socks. Velvet or lucite drawer divider inserts organize specialized accessory items such as earrings, bracelets, broaches, watches and sunglasses. They can also help keep necklaces tangle free. Velvet drawer inserts are perfect for housing accessory items such as watches and sunglasses.
7. Reduce The Paper Clutter

There is always that pile of mail, bills, coupons and other items taking up space which can make any space feel cluttered. Sort through a small stack per day and keep only those items which are critical. The rest can be recycled or shredded. Any items which you may be unsure about keeping can also be scanned and digitized. If you really want to be proactive, sign up for paperless billing for any of your utility items. Many even offer you a discount or bonus points simply for enrolling.
8. Designate Spots in the Mudroom or Entryway
Does everyone drop backpacks, jackets and shoes as soon as they walk in the door? A mudroom or foyer organizer can handle that with hooks, cubbies and even coat cupboards. Give each person in the family his or her own spot for their belongings, which can be concealed when needed with either flip up or swinging doors. Even add a bench to put on shoes with additional storage underneath to keep items off of the floor and out of the way. Now tidying up at the end of the week doesn't have to fall on one person's shoulders.
9. Conceal Laundry Room Items

The laundry room is a place where clothes tend to gather on the floor and cleaning supplies and other items are left visible. Custom pull outs will keep items such as brooms, dustpans and mops neatly stored and out of view. Deep roll out drawers provide ample storage space for items such as laundry detergents and fabric softeners. Roll out drying rack drawers are a convenient space for delicates to dry without taking up valuable floor or counter space. And a pull out, swivel ironing board is a great space saving option which eliminates the need to move or store an additional bulky item.
Getting organized is a process that most people don't nail overnight. Start in one part of your home and work your way through. If bedroom closets make your blood pressure rise, that's a good place to begin. Or if the kids' rooms need help, set your sights on getting them streamlined.
Download our ebook: Optimizing Your Home Organization to learn more about the art of getting organized. When you're ready, our professional Designers can work with you to create home storage solutions that are affordable and really work.