A Buyer's Guide to Custom Closets
With so many homeowners downsizing and remodeling, there is an increased demand for more storage and better space utilization. Custom closets are a great way for a homeowner to make the most of the space available
There are many elements to examine when considering custom closets.
We have detailed some of the most important ones below to help you obtain the best value, that is the highest quality product at the best price, enabling you to simplify the process.
Vendor Experience with Custom Closets
It is important to work with a company that has many years of experience in the field, with a proven track record and the resources to make sure you get a professional design, created by a qualified designer, installed by a highly experienced installation crew and backed by a company that is both stable and efficient. Bonus points for companies whose employees have been with them for many years. A high level of experience means they produce high quality products that are manufactured properly. It also demonstrates that the company as a whole is a quality company who values a positive work environment and takes care of their employees.
While price is always an important component in any significant purchase, one must take into account the ability of the vendor to service the product after the installation. A company without a history may offer a lifetime guarantee, but will it be around in a few years if you should need them? You want to be sure that you select a closet company that will be in business to make repairs or modifications as they become necessary. Do they have their own facility? A company that is established is not working out of their car or with a third party. They are manufacturing their designs in-house and able to make repairs and get the material in a timely manner.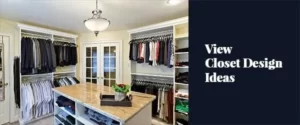 Quality Custom Closet Design, Manufacture and Maintenance

Chances are that you are not an expert in the closet and organization field. You must count on the designer that you are working with to create a truly professional custom design, specifically to suit your needs, and a company that uses only the best materials and manufacturing practices. You want your new closet systems to last and be beautiful and functional for years to come. Be sure that you are dealing with not just a salesperson but a seasoned and experienced Interior Designer who listens to your needs.
Did you know that the best material for closet systems is ¾" thick industrial grade thermo-fused melamine laminate? Maybe not. Also, what type of drawer slides are best? How about hardware? Does the proposal you received offer 2 mm thick edge banding which is guaranteed never to chip or peel for as long as you own the product, or is the standard .018" thick material used (called "thin edge" in the industry)? If you are going to do a job, do it right. To get true value, you need to deal with a company that has been making the highest quality closet organizing systems for many years. They should also have a strong referral network and be able to provide you with a couple of references.
Integrity

Since you are not necessarily equipped to evaluate that which is being presented to you, it is important to be confident in the integrity of the closet company you select to create your new custom closets. A company that doesn't make unrealistic offers like free installation or 50% off. Let's be candid. Whomever is going to install your closets is going to be paid and you are the one who is paying them.
Unrealistic discount offers and high pressure sales tactics are designed to get you to sign a sales agreement quickly, but they usually don't result in you getting the best deal for the best product. You want to work with a company known for outstanding integrity, extensive experience, fair pricing, demonstrable quality and thousands of highly satisfied clients.
So you may ask yourself, after considering all of this, are custom closets worth it? You better believe it! There is a definite value not only while you are in your home, but also if you intend to sell at some point. Should you have any questions or need help from an experienced closet and organizing expert, reach out to us for a no-obligation free design consultation.