Why You Shouldn't Build Your Own Custom Closet
Whether you've lived in your home for several years of you just moved into a new house, it could be time to turn your attention to your closets.
When they're organized well, you can always find your clothes, shoes, jewelry, bags, belts and ties. When they're disorganized, you might have to search for your clothes every morning before you get ready. Here are some questions to consider.
The solution is obvious: Create a closet organization system so you can keep your clothing and accessories organized, making for a much more pleasant morning routine. What's not so obvious is how you'll achieve that custom closet look—hire a professional or do it yourself?
Going the DIY route might seem like a great option—it'll be a fun project you can undertake. It doesn't involve the same level of expertise that, say, a bathroom remodel does, but it will bring about a sense of accomplishment when it's finished. And bonus: It'll probably save you some money. However, what seems like an easy way to DIY your way to an organized master walk-in closet could quickly turn into a disaster.

Here are some things to keep in mind when considering a DIY solution for your custom closet.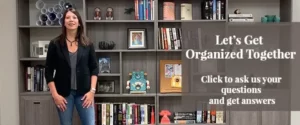 What Materials Will You Use?
The goal of your custom closet is to solve your storage problems and provide some style and sophistication to your walk-in closet. Going the DIY route by building your own shelves, cubbies and drawers may provide a solid foundation for your closet, but there are certainly some issues.
Unless the wood you use is sanded and stained or painted properly, you'll easily snag delicate fabrics like sweaters and blouses that you might store on your new custom shelves. Other shelving and drawer solutions are limited in finishes and quality and might not be the right depth to store clothing without some frustration.
A closet designer has access to high-quality melamine that is smooth and sturdy with multiple color and finish options for a more polished look.
Who's Going to Design Your Closet?
It's always easier to take on a new project when you've got some experience under your belt—and a custom closet is certainly no different. While creating a custom closet yourself might save you some money, you're also forgoing the helpful advice of a professional closet designer.
Closet designers live and breathe organization and can solve just about any storage problem you might have. They can review the space to use every inch as efficiently as possible, and they know how to get around design issues like finding a spot for your tall boots and belt and what to do about oddly-placed light switches and vents. They can also make recommendations for accessories that you might not know about—and might not have access to if you do it yourself.
Does DIY Really Save Time and Money?
Like most DIY projects, what seems like a great idea in the beginning doesn't always seem so at the end. Building a custom closet yourself will take more time than a team of professionals, and in the end, it may cost about the same amount.
Consider that you'll need to purchase all of your building materials, hardware, stains or paint and any tools you don't already have. And if you mis-measure something and need more supplies, your costs begin to climb. 
When your DIY custom closet is finished, it may not be what you had envisioned, and it may not be significantly cheaper than letting the professionals do it the right way from the start. On the other hand, working with a custom closet company ensures your project is done right the first time. Reach out to us to learn more about our process.