Can a New Closet Increase My Home's Value?
Are you looking for ways to increase your home's value? Before jumping headfirst into a kitchen or bathroom remodel, consider something a bit simpler: a new closet. Closet remodels can dramatically improve your home's appeal, increase value, and add functionality to your space.
Spacious Closets Are A "Must-Have"
It's true. A spacious walk-in closet is becoming a must-have for many homebuyers. As Forbes reported, large closets "have gone from a desired amenity to an expectation." Realtors everywhere agree that closets can make or break the sale of a home, and an impressive closet can certainly close the deal.
Beyond appealing to buyers, a recent NARI survey suggests that a new closet is one of the best ways to increase overall joy in a home.
In fact, 72% of people who undergo a closet renovation have a greater desire to be home. 59% express an increase in enjoyment, and 68% feel a huge sense of accomplishment after completing their closet remodel.
Moreover, the average closet remodel reports a healthy ROI (return on investment). Homeowners can expect to recoup around 56% of their investment, adding roughly $2,000 to their home value.
The fantastic thing about closet remodels is that they can be as extensive or minimal as you want them to be. Your investment and home value increase are directly proportionate to your initial investment. If you want to add a little value, do a minimal renovation. If you want to add a lot of value, install a brand-new walk-in closet.
What distinguishes a valuable closet from a low-value closet? How can you design a closet to increase your home value?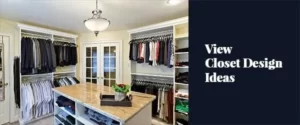 5 Design Tips to Increase Your Closet's Impact
There are several tried-and-true techniques to make a closet go from zero to hero. Here are the top five tips.
1. Decide Where You Need Storage
Think about the rooms where you most need the storage space. While you can add a new linen closet or increase the size of your guest bedroom closet, you want to focus on the areas of the home where more storage is needed. For most people, these areas are the kitchen and the master bedroom. If there isn't enough storage space in these two areas, things can get pretty hectic. So, before you dive into a closet renovation, make sure you've chosen the area where you most need the extra space.
2. Focus on Storage
The primary function of closets is storage space. Tragically, most closets only have a couple of rods for hanging clothes, and maybe, one top shelf. That's not very practical – at all. Consider adding solutions like shelves, drawers and drawer organizers, shoe fences, hooks, hidden nooks, bureaus, etc.
Today, many his-and-her closets are opting to add two hanging bars to each side of the closet, effectively doubling each person's hanging space. An island in the middle of the closet full of drawers and plenty of space on top is also popular.
You can easily translate these same ideas into more cost-friendly solutions, like fabric-lined boxes, decorative baskets, and shoe caddies to increase the amount of usable storage.
3. Declutter
While you want to have plenty of space for all your stuff, the truth is, most of us have many things we don't need anymore. Most people are guilty of shoving something in their closet to worry about later, and then never getting back around to it. Take the time to declutter and eliminate everything you don't need from your closet; that way, you know exactly how much storage and space you actually need.
This tip is especially critical if you're planning to sell your home. Homebuyers want to see that there is plenty of closet space. If your closets are overflowing, they're going to feel like there isn't enough space. Most realtors recommend filling your closets to about fifty percent capacity before showing your home to potential buyers so that they know there's plenty of room.
4. Concentrate on The Display
Once you've decluttered and focused on storage, it's time to think about impact. How do you want your closet to look when you open the door? Closet design doesn't have to be boring. You can go for bold colors, eccentric lights, and decorate the inside, just like you do for the rest of your home.
Maybe you have an impressive shoe or purse collection that you'd love to see when you open your closet. Consider building an inset display table out of wood or other types of acrylic solid surfaces material. Concentrate on making your closet have that wow-factor.
5. Rethink the Doors
You can significantly impact the look and feel of your closet simply by swapping out the doors. If you have an outdated sliding door or a single door, consider changing it out for a modern double-door closet. You can even add mirrors to either side of the door to increase the feeling of space and add a layer of functionality.
The closet door can also take up unnecessary room, especially if you're tight on space. Consider choosing a door that will maximize the amount of space you have – not take away from it.
Customize Your Closet for You
You can substantially improve any existing closet with the above tips. However, if you really want to take it to the next level – consider a completely custom-built closet. For most people, improving their closet is about boosting their quality of life. The home value increase is a bonus.
If you've been wanting to improve your closet but needed the justification, now you have it. Closets can increase home value. Alternatively, if you're looking to list your home and wanting a project that's sure to boost value – look no further than a new closet.
Matt Lee is the owner of the Innovative Building Materials blog and a content writer for the building materials industry. He is focused on helping fellow homeowners, contractors, and architects discover materials and methods of construction that save money, improve energy efficiency, and increase property value.