Clever Laundry Room Storage Ideas
The laundry room is often a place that gets overlooked or forgotten when it comes to organization. Homeowners have a need to turn their laundry rooms into a functional, efficiently used space. It should be more than a room where piles of dirty laundry are sorted on the floor. Ideally, it can be a place with storage for cleaning products and tools, ironing supplies, hampers for sorting clothing, drying racks and hanging rods. Imagine having a place to fold and iron clothing all in one room. Having the right type of storage with the space optimized for your needs makes this dream a reality.
Here Are Some Ingenious Laundry Room Organization & Storage Ideas
1. Fold Away Ironing Boards
Fold-away or swiveling ironing boards are specialized accessories that save set-up time and space. This makes them perfect for smaller laundry rooms where space is at a premium because they stay concealed and store away easily. These great accessories can be housed in a drawer or wall mounted in a separate cabinet. Conventional ironing boards are bulky and often difficult to store, set up and break down. You need both hands to squeeze and hold a lever, while you open or close the large board. But fold-away and swiveling boards can be set up or broken down with one hand and without all the fuss. You'll love the first time you need a quick spruce up of a shirt or blouse and will notice the amount of time saved right away.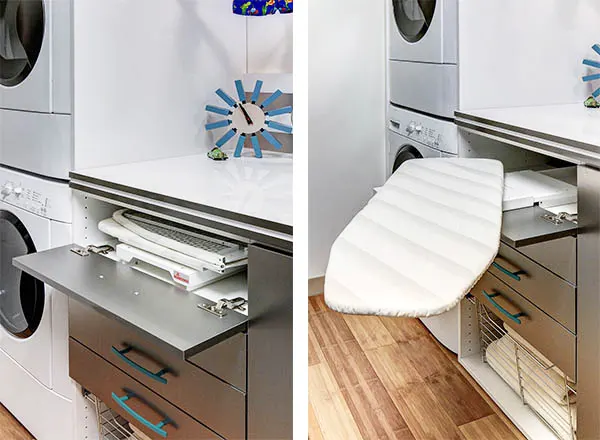 2. Pull Out Drying Racks
Finding a place to dry delicates is no longer a challenge! Forget hanging clothing over a piece of furniture, having a free-standing rack which takes up floor space, or setting up a makeshift clothesline. Drying racks easily pull open from a drawer and keep clothing like fine woolens or knits from getting stretched or damaged.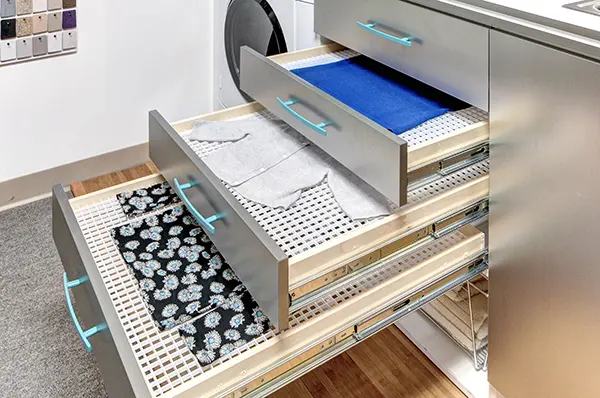 3. Tilt-Out Hampers
Tilt-out hampers are great for concealing soiled clothing. They can be built directly into a cabinet behind a door that matches the style of the room. Consider having two in order to keep lights and darks sorted, rather than taking the time to do it later. A liner can be easily removed to transport items, if needed. Baskets are available in multiple finishes including polished chrome, satin nickel, oil-rubbed bronze, matte gold and slate.
4. Roll outs
Roll-outs truly maximize the available storage space. There is no longer a need to reach deep into a cabinet to access items underneath your sink. These drawers are designed to utilize the entire depth of the cabinet for easy access to fabric softeners, detergents, starches and more. They can also be customized and configured to work around existing plumbing.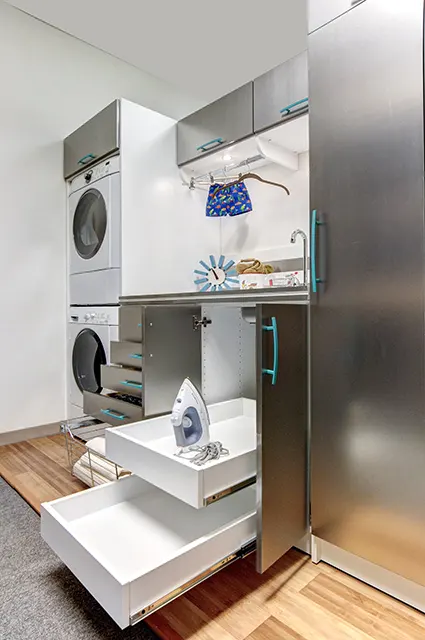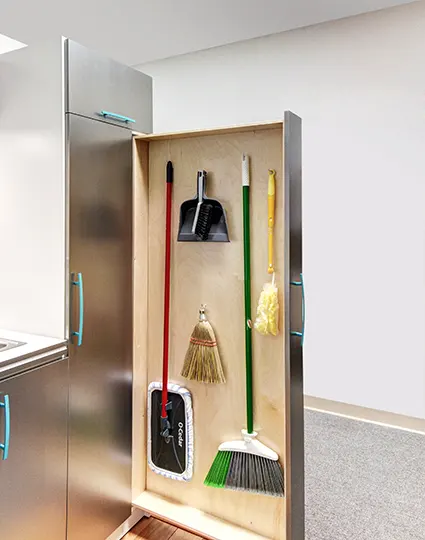 All of these creative storage ideas will help you easily organize your laundry room and turn it into a functioning and efficient space. You will be able to store more, in a much better and safer way. Still have questions? No problem! Reach out to us for a free remote or in-home design consultation. Our experienced Designers will learn about your needs and help you create the room you always wanted.