Closet Companies | How To Pick a Company to Organize Your Closets
How To Choose the Right Company to Organize Your Closets
Chapter 1 – The Experience Factor
What should you look for when choosing a company to organize your closets? This is a really good question. After all, regardless of the size and scope of your project you want to make sure that you get a truly high quality installation at a fair price from a company that will stand behind it's work. There are a lot of choices out there and it is clearly in your best interest to know how to best evaluate potential contractors. Over our next several blog entries we will address various items that you should consider when choosing a company to provide your custom closets.
Experience
When contemplating a project such as this, very little is more valuable than experience. It behooves you to choose a company that has been in business for a significant period of time; a company that has a really good track record and a meaningful body of work. It may seem like a good idea at the time to go with the guy working out of his garage or the back of his truck to organize your closet. After all, you want to give somebody a hand if you can and you are looking to get the best possible price. But remember, what seems like the best deal today may not be such a bargain when you need service or want to make a change. Many small closet companies come and go. They may seem like a reasonable choice initially, but down the road you may wish you had chosen a more established firm that will be there when you need them. And the truth be told, oft times the smaller company has less buying power and the prices they offer are not necessarily more competitive.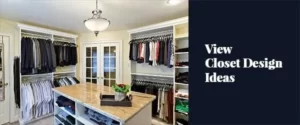 Service
What happens when you need service? Let's say a drawer slide fails. Or perhaps a highly energetic child decides that your brand new custom closet looks like a great substitute for a jungle gym. A hinge needs adjustment…you want to rearrange some sections to suit changes in your wardrobe or new needs arise…lots of things can happen that warrant a service call. But if your closet company is a one man band it may not be so easy to get him to come back to take care of an issue when he is busy making sales calls and doing installations for new customers. A more substantial company that puts a high priority on customer service is usually a better choice. Let's face it, when you need something done, you want it done when its convenient for you and in a timely manner. Two weeks from Tuesday is usually not a satisfactory time frame. Make sure the closet company you choose has the capabilities to take care of your needs before, during and after the sales and installation process.
Selection
If you just want a simple, white melamine closet system any closet company should be able to provide that. But if your plans are a bit more involved, a larger, more established company may be better able to provide exactly what you want. Some companies stock just one or two colors. Others have 15 or 20 solid colors, wood grains and patterns on the shelf from which you can choose. You may want just a tie rack and a belt rack or your wish list might include all kinds of sophisticated accessories to make your installation truly custom. Make sure the vendor you select can provide all of the bits and pieces that make a custom closet system work up to its full potential.
Additionally, maybe you need more than a closet. What if you want a Murphy bed or a garage system or a home office? Chances are that plain white melamine won't be your first for these types of projects. A smaller company may not lack just the selection of colors, but may not have the product design knowledge to create the home office or sleeping system, garage organizer or media center that you really want. Find a company that can diagnose the problem, create appropriate and exciting solutions and execute the plans to perfection. After all, we're talking about your home here!