Closet Ideas For The Home Buyer And Seller
According to realtors, a common concern for potential home buyers is ensuring that there is a sufficient amount of closet space to hold all of their belongings. Having an understanding of your storage needs (what items you plan to store and how you like them organized) will ensure that your new space is not only maximized, but in a manner that is best suited for your everyday needs.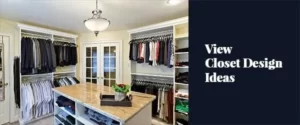 If you are selling you current home, research shows that attractive closets which are already decluttered and organized create a good first impression. There are some simple ideas you can implement quickly and easily that will make your home more attractive to prospective buyers.
At the Closet Works, we have you covered on both fronts. Learn some tips and tricks from the professionals that can make your home buying or selling experience less stressful when transitioning to a new space.
For The Seller
Research supports that creating a little reorganization and putting some time into your closets increases the potential to sell your home. Going through and removing items you no longer use is a great place to start and beneficial on two fronts. You will not have to pack it later when moving out and it will make the closet space look larger. This gives the impression that there is plenty of storage space with room to spare – the key to staging in all parts of your home. Giving that level of attention to things exposed, as well as behind closed doors, demonstrates to potential home buyers that you are serious about selling your home and there will be no surprises waiting for them once it's time for them to start moving in their own belongings.
Want to learn more? Here is a one page guide with some tips and tricks for you to follow when selling your home that can make all the difference.
For the Buyer
Everyone has different needs. When you are looking to purchase a home, different areas may be important to you unrelated to closet space. Identifying the features that make a home work for you is one of the principal considerations. For example, if you plan to work from home but also need a space for an occasional guest, a murphy bed would be a great solution and provides a dual space that is only comfortable but productive. A craft and hobby room would be the perfect choice to either spark your own creativity or work on arts and crafts with the children. Imagine a large work surface with the proper lighting, along with the customized storage space to keep all of your supplies organized and easily accessible.
Need some additional tips? Check out this one page guide with some great organization strategies that are sure to save time and make everyday tasks much easier.
Of course all of these solutions are best achieved with a professional Designer who has significant experience. Schedule a no obligation risk-free in-home design consultation with us today.