Give Your Closet (and Clothes) Some Love with these Organization Tips
Whether you've just invested in an awesome custom walk-in closet —where each inch of space is maximized—or you've just said goodbye to the clothes you no longer need , now you're faced with the task of keeping your closet organized. 
Keeping your closet organized isn't just about finding your clothes easily—it's also about keeping your life as stress-free as possible. When you know where everything is, you can scan your closet in the morning and easily pick out an outfit to wear, rather than trying two pairs of pants and three blouses before finally settling on a dress.
Organizing your clothes and accessories—and storing them the right way—also helps you keep them in great condition. You didn't spend $95 on that merino wool sweater for it to become misshapened from hanging in your closet.
Here are a few closet organization tips on how to store your clothes so you can find your favorite blouse or sweater easily—and know that it's still in tip-top shape.
Closet Organization Tips
Hang similar items together.
Organizing like clothes together—dresses with dresses, skirts with skirts—will give you the best shot at putting creative outfits together and actually wearing all the clothes you own. Your dress pants should have their own space, just like jackets and blouses.
Mohair and corduroy do not mix.
Here's a good formula to follow: Keep clothes that shed away from clothes that attract. That means your velvet dress shouldn't be anywhere near your angora sweater. Separating these clothes will seriously cut down on your time with a lint roller.
If you've got it, flaunt it.
Now that you've gotten rid of clothes you no longer wear and you have more space, proudly display some of the items you used to hide in drawers. For example, your handbags might find a new home on shelves—after all, they're works of art just as much as they are practical purses.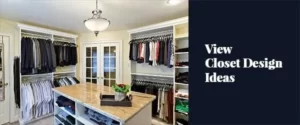 Shelve your sweaters.
You might've hung sweaters in the past because you had no other place to store them—but no more. Neatly fold sweaters and place them on shelves so they maintain their shape. Avoid unsightly hanger marks and stretched out knits. You'll thank us the next time you wear one..
Keep your Louboutins up top.
Keep your precious special occasion shoes, which you wear less often than others, in their original boxes or plastic bins on higher shelves. Store your everyday flats, sandals and booties on lower shelves so they're always easy to get to.
Fold scarves on shelves.
Avoid a ball of scarves in your sock drawer or bulky scarf hanger taking up room on a hanging rod by folding scarves neatly and storing them on a shelf or two. This way your scarves of different fabrics will be wrinkle-free and ready to wear when your outfit calls for a versatile accessory.
Help handbags retain their shape.
Whether your crossbody bags are made of soft, pebbled leather or you're proudly displaying a classic Louis Vuitton or Chanel handbag, fill them with tissue paper so they retain their shape. They are, after all, an investment worth taking care of.
Keep hosiery snag-free.
It's never fun wrestling on a pair of tights before work only to find there's a big snag in your favorite pair. Prevent this from ever happening by storing hosiery in clear plastic bags or devoting a drawer to delicate tights and leggings.
Now that you know how to store your clothes to keep them organized and in the best condition, it's a good idea to review your wardrobe every few months and donate the clothes you know you'll never wear again. You'll free up space in your coveted closet—and you'll do a good deed in the process.
What other tips have helped you keep your closets and clothes organized? Reach out to us for a free, no obligation in-home design consultation.