Closet Rescue: What am I Supposed to Do with a Rod and a Shelf?
It all starts with your stuff. You don't want to get rid of it, but you don't have much room for it either.
Work outfits, casual clothes, sweaters, shorts, dresses, slacks, belts, jewelry, hats, shoes. Everything needs its place, but your current closet doesn't give you much to work with.
You've got one measly hanging rod and a 12-inch deep shelf above it in your small walk-in closet.
Just looking at the space sends you into a panic. How will you ever find a place for all your stuff?
Take a step back for just a minute and consider that the best way to organize your closet is to maximize the space with the right tools—a shallow shelf and a hanging rod aren't the right tools to get the most out of your space.
Here are some closet organization ideas to consider.
Go Vertical with Hanging Rods
If you've got floor-to-ceiling space but just one hanging rod, you're not getting the most out of your space. With two hanging rods (or even three, depending on the size of your clothes), you can double or triple your storage.
And if you're worried about reaching the clothes on the top bar, a pull-down rod can put your clothes within reach.
Behind-the-Door Solutions
Now that you've got most of your clothing storage figured out, what will you do with your shoes and small accessories like belts and ties?
While your inclination might be to store your shoes on the floor, we both know how that will end: You'll organize your shoes into neat rows every week and within a day or two they're strewn about, mismatched and hard to find when you need them.
And finding a place for your belts and ties can be difficult. Hanging them on a single hanger is a solution that only ends in wasted time and frustration.
If you're short on space, try adding storage behind the door.
That might not sound like a great idea, but an experienced closet designer can show you how custom-built behind-the-door shoe shelving allows for storing shoes sideways in pairs to get the most of your space when you have eight or nine inches to work with.
Belts and ties don't need a lot of space, but they do need to be organized the right way—and be hind the door is the perfect spot for them. With dedicated racks, they'll be organized and easily accessible every time you get dressed.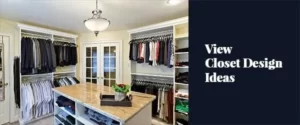 Window Workarounds
While natural light will brighten any space and make your home more aesthetically pleasing, it can feel like a wasted opportunity in your closet. Worse, the light can also fade your clothes.
But your wall with a window doesn't have to go unused. First, cover the window with a film that blocks out UV rays to keep your clothes' colors vibrant and fade-free.
Then, use the wall below that window for shoe shelves or even cubbies, where your flats, sandals and sneakers can live. You could also add shelves that are the perfect depth for sweaters and pressed dress shirts.
On the other hand, if you favor more storage space over natural light, you can also cover the window completely with shelving, drawers or cubbies.
With some creative thinking, you've just seriously upgraded your small walk-in closet, maximizing the space to store all of your stuff.
If you're interested in seeing what our designers can do for your closet, reach out for an in-home consultation.