What to Expect When The Closet Works Comes To Your Home
Whether you're interested in finally creating an organized "drop zone" near your entryway or you're taking the leap and adding custom closets to your home, the first step in the process is an in-home consultation.
When you decide that The Closet Works is a company you may want to work with, one of our expert Designers will take time to answer your questions, offer ideas and help you begin planning a space that'll help you get and stay organized.
Here's what to expect during that free in-home consultation.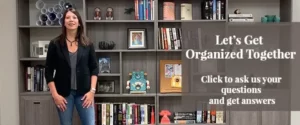 Review your space and discuss goals
For a custom organization solution to work, no matter what we're organizing, it has to meet your goals. That's where this process starts. When the Designer arrives at your home, he or she will ask you about your goals for the space. You may want to tame your kids' school, sports and play gear in your mudroom or you may need to revamp and reorganize your cluttered garage. Whatever your goal is, one of our Designers will take your needs into account and offer suggestions on how to tackle the problem.
Then, the Designer will take a look at the space and begin carefully measuring it to provide an accurate quote and determine the best way The Closet Works can meet your needs. Importantly, this is also the time to take into account features of the space, such as windows, vents, light switches, pull-down attic access, lighting and outlets. Your custom solution will be designed around those features.
During this time, your Designer will take notes and roughly sketch the space along with the measurements. After your appointment, he or she will create detailed sketches that outline exactly what your custom solution could look like.
Review your stuff
After getting a feel for the space, your Designer will take a look at everything you need to store in it. If it's a space that tends to collect clutter, it's helpful if you've gone through all of your stuff already and decided what will stay and what will go. That will give your Designer a clear picture of what, exactly, needs to be stored.
If it's a custom closet, your Designer will have an in-depth discussion about your clothing, accessories and storage needs. He or she will ask questions like:
How many pairs of shoes need to be stored? We also measure the width of shoes and take into account heel heights. We'll review ways to store different types of shoes (cubbies, flat shelves, angled shelves) to maximize the space.
How much short hanging space and long hanging space do you need? How many pairs of slacks can be folded over hangers, and how many pairs need to be hung by the cuff? We can also discuss the possibility of triple hanging to maximize storage.
Which items do you prefer to hang versus fold? We even measure folded shirts from the dry cleaner, which can vary in size, to ensure the shelves are the correct depth.
How do you like to store scarves? Which other accessories need to be stored in your closet?
Do you need space for hampers, and how many? We often include up to three for darks, lights and dry cleaning.
Do you need room for a center island or a bench? Would you like to include a countertop or vanity?
Do you need to store a safe? If so, where would you like to keep it, and what are the dimensions?
How much jewelry or watch storage do you need? How about belts or ties?
How many people will use this closet and how tall are they? If there is a big height difference, it may impact how we design the closet.
Do you need a pull-out ironing board or mirror? What about a slot to store a step ladder?
What type of lighting do you prefer?
Do you need space for other specialized items?
The way we make a custom closet excellent, rather than ordinary, is to delve deeply into all of the possibilities so the space is truly personalized and special, rather than conventional.
Discuss colors, textures, door styles, accessories and more
Now, for the fun part! Our Designers don't arrive at your home empty-handed; they bring with them samples of our TFL, as well as swatches of our colors and finishes. Your Designer can also show you different styles of drawer and door fronts—from shaker and traditional to various glass inserts—as well as hardware and accessories. While our Designers can't carry every single sample, swatch, hardware and accessory option with them, you can see everything on The Closet Works website and in our showroom, which you can also visit before finalizing your order.
After the consultation: Creating your design
After your in-home consultation is over, your Designer will take some time to create your custom designs. We handle this after the consultation so we can be respectful of your time and create the most thoughtful options, and so you don't feel pressure to make a decision on the spot. We know that a custom solution is an investment that many people want to discuss with other family members.
Now that you know what goes into an in-home design consultation, schedule one for yourself!