How to Create Garage Storage Envy
Whatever your aspirations, nobody wants their garage to be an unorganized mess. There are a lot of potential options for your garage space including a sleek showroom for your car, a combo workshop and storage space, a potting shed, a tool room or even the ultimate man cave. However you decide to remodel or utilize the space, these tips and hacks will help you get started.
With a little planning your garage can be useful and the envy of all your neighbors.
1. Start With Purging.
Chance are there are lots of things in your garage that you don't need. When taking an inventory of the items you have and making these decisions, divide each of the items into sections including those you would like to keep, donate, or throw away. You probably didn't even need some of them when you bought them, but we all do that. Let's get rid of the obvious stuff. Recycle that 5 year old paint, or if it is dried out and no good anymore throw it away. In addition, it is flammable and could become a fire hazard. Lose that old sports equipment that is way past its prime (not your prime, the equipment's prime). Trash those useless, orphaned or broken items that take up space and collect dust.
2. Donate, donate, donate!
Just because you can't use it doesn't mean somebody else can't use it. Haven't mowed your lawn in years? Somebody can use that lawnmower. You don't need 4 snow shovels taking up garage storage, and your golf clubs from 1984 just might make some kid's day. Go ahead, let it go…it's good for your psyche as well as your space.
3. Divide and Conquer.
Separate your gear in the way that works best for your needs. If you use the same tools each week (trimmer, blower, lawnmower), it makes sense to store those items together in one location, perhaps on a Storewall system. Or if use your garage for working with your power tools, you may need to be sure you have an adequate workspace with a bench and drawers. You get it. This rule should apply to everything. It makes it easier to organize, easier to find things when you need them and your things will disappear less often. Remember our credo: A place for everything and everything in its place. Decide where the best place to store these items would be so they are safely secured and also easy to grab when needed. Also make sure there are no obstacles in the way when trying to access them.
4. Overhead Garage Storage.
There is space in your garage that is not being used. There are all kinds of specialty racks and garage storage units that can be attached to the ceiling and that can easily be lowered when you need something, then raised back up to the ceiling when you are through with it until next time (Christmas decorations for example). There are bicycle racks, storage boxes, platforms…all incredibly useful for storing the gear that you don't need to get to every day.
5. Lock it up!
Safety should be a top concern. Potentially dangerous chemicals such as paint thinner, fertilizer or gasoline should be stored in a locked cabinet to keep curious children and pets out of harm's way. Don't forget to ventilate those spaces! Also, power tools, saws and anything sharp should be locked up or stored on high shelves to keep potential accidents at bay. Kids need to be protected from themselves … adults too sometimes.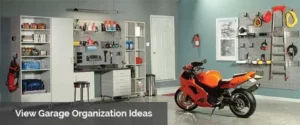 6. Clean up the floor.
You can clean up the existing concrete floor with all kinds of new and effective eco-friendly concrete cleaners that use microbe or enzymes to get rid of oil stains and the like. Better yet, cover the floor with either an epoxy system or the amazingly cool floor tile systems made specifically for garages. Your garage can look like a NASCAR workshop! A clean floor makes a world of difference in the look and feel of the entire garage.
7. Organize!
There are great cabinet and shelf garage storage systems available to help turn your garage into a multi-purpose masterpiece. How about a work bench with tool storage and lighting? Or a workspace for those gardening projects? How about a potting bench or bonsai work shop? For the sports fanatic, a rack, shelf, basket or hook for every single piece of sports paraphernalia in your vast collection. For the golfer, a storage rack to protect your valuable clubs as well as a place for shoes, accessories and all those putters.
In the end, creating garage storage envy is more than just a beautiful looking space. It is a functional one where items are stored in a location that is safe, organized and easily accessible. Whatever your goals may be, we are here to help you achieve them. Contact us today for a free in-home design consultation with one of our experienced Designers.