Inside the Custom Closet Design Consultation
Getting custom closets for your home—whether you've lived there for five years or you're building something new—is an exciting time. When your custom closet is finished every article of clothing, every accessory and anything else you might want to store will have its own place.
But the real fun in creating a closet starts when you sit down with a designer to figure out what your closet is going to look like.
Ideally, the design consultation takes place in your home, the designer can see your space firsthand and help you come up with a design best suited for your space.
This means that your current closet space is inspected from top to bottom for things such as light switches, heating and air conditioning vents and returns, access panels or even attic doors. A good designer will create a layout so you can still reach your interior light switches, for example. And they won't create a design that places shelves in front of vents or shoe cubbies that interfere with access to your attic.
During your consultation, a designer will discuss your goals for the space. They'll ask a lot of questions to get a sense for exactly what you'd like to store in your closet and how you prefer to store things. You've likely got clothing, shoes and accessories, but what about jewelry, ties, scarves and storage for other things? Now is the time to discuss this.
Shelves, hanging storage, drawers? The design consultation is also your opportunity to discuss which types of storage will work best for the items you have. You might want several hanging rods for business clothing, as well as shelves for cold-weather gear like sweaters. You might also prefer shoe cubbies for most of your shoes as opposed to shelving. And you might want extra shelves so you can display your handbag collection. Your designer will listen to your preferences and make recommendations along the way so you can get the closet that truly fits your needs.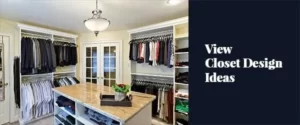 The consultation is also when you can talk with a designer about finishes and hardware that can make your custom closet completely unique. At The Closet Works, we have over 100 different colors, finishes and textures as well as unique drawer and door styles and hardware, so your closet can be completely customized to your style.
The designer takes precise measurements of your space and complete computer-assisted concept drawings of your custom closet so you can begin to see your vision come to life. You can keep the drawings so you know exactly what you're getting; you can also use them to compare other closets if you'd like, and make changes if you find something that you think will work better for you.
Once your drawings are finalized and you've decided on finishes, expert craftsmen get to work building and installing your custom closet. Read more about those steps of the process here.