Shopping for a Custom Closet? Watch Out for These Warning Signs
Making home improvement decisions can be stressful. The reason? Home improvements are investments that you and your family will likely see and use everyday.
So if you're shopping for a custom closet—a space that can be the difference between a tense morning routine and an easy, peaceful one, you want to make the right decision.
Here are a few "warning signs" to look out for when you're shopping for a custom organization solution.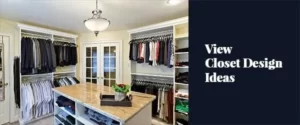 A quick design sketch
If you've got a small reach-in closet and your needs are fairly simple—a few shelves and maybe some hanging storage—then yes, a closet designer could potentially sketch your custom solution while he or she is in your home.
However, if you've got more than a small reach-in closet or multiple closets, your Designer should spend some quality time developing a few design options for your custom closet. You're investing in a truly custom solution, and therefore your Designer should give you his or her best design that meets your needs. And this likely means taking careful measurements, asking detailed questions, looking at everything you hope to store in your closet and creating multiple options after your consultation.
A very short conversation
The point of a custom closet is that it's fitted just for you and your spouse or family. The in-home design consultation should be an in-depth conversation about your clothes, shoes, accessories and other stuff you've got and how you want to store it in your closet.
Your Designer should ask you a lot of questions and will want to see the closet you'd like to customize as well as everything you'd like to store in it. He or she should also review the other closets in your house to see if your needs can be met or if you should discuss seasonal or overflow closets. For example, if you're adding custom organization to a small walk-in closet and you'd like to store some sporadically-used evening gowns there, it may be more efficient to store them in another closet to make the most of your space.
The hard sell
Just like other design choices you have made about your house, choosing custom closets is a personal decision.
Committing to a custom closet design (and company) shouldn't be a stressful event; it should be fun. A custom closet company should be interested in giving you the best customer experience, rather than using hard sell tactics like insisting that you can only get an offered price if you place your order the day of your in-home consultation. If a salesperson wants you to commit the same day, before you've had an opportunity to review the designs carefully and think it over, you might be better off working with someone else.
Few reviews and references
In this age of connectedness, content and social media, if you don't have a web presence, you don't exist. For design and home improvement, as well as a number of other services, this extends to reviews and references. When considering a custom closet company, you should easily be able to read reviews on sites such as GuildQuality, Houzz and Angie's List. In addition, the company should be able to offer references from other happy customers in your area so you can ask questions and get help making your decision.
Low-quality materials
Part of the reason you're interested in a custom closet rather than cobbling together a DIY solution is likely that custom solutions are higher quality. Do your research to find out what materials a custom closet company uses. Thermally fused laminate (TFL) is a high-quality material that can withstand years of use. The Closet Works offers TFL in over 100 colors and finishes.
In addition to using TFL, you should also look for:
Edge banding: The thicker, the better. For example, The Closet Works uses 2mm PVC edge banding whenever available, rather than the typical .018" edge banding many companies use.
Drawer boxes: Drawers that are opened and closed every day should be constructed of plywood with dovetail jointery; stapled melamine boxes won't withstand wear and tear year in and year out.
Drawer slides: Steel, full extension, ball bearing drawer slides allow full access to the entire drawer.
Adjustable levelers: The bottom of each closet panel should have two adjustable levelers inserted into steel sleeves to best level it. This is a better solution than furniture shims, which can slide out of place causing your closet to sag or become uneven.
No warranty
If you're going to invest in a custom closet, wardrobe, Murphy bed, pantry or home office, make sure the company you choose stands by its products. Look for a lifetime warranty that protects your investment while you own the house it's built in. A warranty should cover anything that breaks in your closet, outside of normal wear and tear or abuse.
Some companies that work out of their garage or the back of their truck may not offer any warranty, and even if they do, they may not be around to honor it. The Closet Works has been producing superior closets for almost 28 years.
At The Closet Works, we're truly focused on providing a high-quality custom organization solution and the best customer experience possible. To learn more about our solutions, contact us.