Custom Closets – How To Recognize Well Built Custom Closet Systems
One would think that obtaining a custom closet organizing system would be no big deal…a walk in the park…a no brainer. But au contraire. Just like many things that you may buy, there are a lot of variables and choices that go into the construction of custom closet systems and you should be educated about what makes for quality systems. Whether you buy from a local company who does the design and installation, buy parts from a local big box retailer and install yourself or purchase a pre-designed, precut "custom" system from an on-line source, you should know what you are getting for your money.
Here are some ways you can identify a quality custom closet system.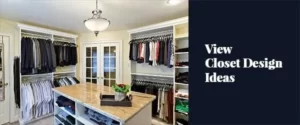 First, the board itself.
Most companies use either ¾" or 5/8" thick material. The board can be finished in many ways. It can be plain MDF (medium density fiber board), unfinished particle board, melamine laminated particle board, painted board, veneer laminated board, HPL (high pressure laminated board)…the list is long. In my view however, the best choice is ¾" thick, industrial grade, thermally fused melamine laminate particle board, commonly known in the industry as TFL.
This board has excellent screw holding characteristics, is a very stable substrate and the melamine infused top layer will never delaminate.
Some providers will tell you that 5/8" board is sufficient, but it really isn't the best choice. On longer spans, the deflection (the amount the shelf will flex under load) is unacceptable. For vertical support panels, it is more prone to bowing or flexing than ¾" thick material. A melamine surface is best because it provides the best combination of features when you consider surface smoothness, appearance, color, texture, pattern choice and, of course, cost. Melamine comes in a wide array of colors and wood grains with plenty of matching moldings available so you can achieve the "look" that want without the need for lots of custom work.
One of the single most important factors in the durability of your closet system is the edgebanding.
Edgebanding is the material that is applied to the visible exposed surfaces of the board. It is there for appearance (raw board is unattractive), safety (raw edges are very sharp and can cause deep, painful cuts…kind of like a paper cut on steroids) and, certainly, for aesthetic reasons. In addition, if a melamine board is not finished on the edge, the melamine easily can be chipped and will immediately look unsightly. Many closet companies use an edgebanding that is only .018" thick (18 one thousandths of an inch). It does cover the edge and looks okay in the beginning, but it is not durable. If it is hit, banged, dropped or in any way damaged, it will chip and look bad forever, as there is no really good way to repair a chipped or damaged edge.
At the Closet Works, Inc. we have been using a thick, 2mm edgebanding on many of our banded edges for over 30 years and it is guaranteed to never chip or peel. I recommend it very strongly because the last thing you want is to install a beautiful custom storage system, Murphy Bed or piece of furniture and have it looking worn and ragged in short order. Some companies go to the extreme of using 3mm banding, especially for extraordinarily high traffic commercial applications. I don't recommend this because it really is not necessary under normal circumstances, and contribute significantly to the cost. I would urge you to make sure you are getting 2mm thick edgebanding and you will not have to deal with unsightly chips. In that our offerings encompass over 100 choices it is not feasible to have 2mm banding available for all options. For finishes without this option, 1mm thick material is used instead. It is not as robust as the thicker banding but still much better than 0.18" material.
Assembly hardware is another area where you want to be comfortable that the provider of your system has not scrimped.
Closet systems should not be screwed (or heaven forbid, nailed) together. They should be connected at the joints with 32mm hardware specifically designed for the joinery of panel products. The fittings should be designed to assure tight, even joints and they should be made of materials that won't corrode with time. This may not seem like a major point, but closets that are assembled with poor quality hardware may not last as long or function as well as those utilizing high quality joinery systems. The cost difference is small, but some purveyors look to cut corners wherever possible and all I can say is caveat emptor!
If your system is equipped with drawers or roll-outs, make sure that you are getting full extension, ball-bearing drawer slides. One hundred pound rating is best unless you have very heavy loads such as in file drawers. Again, slides come in varying degrees of quality, but even the lesser grades are a huge step up from the epoxy "Euro" slides that many companies provide as standard. These inferior pieces of hardware are prone to failing, and they only extend to ¾ of the drawer depth, making it difficult to get into the back of your drawers.
Drawer Boxes
Most manufacturers offer stapled melamine drawer boxes as standard. The problem is that they are not very robust and often, especially with a heavy hand, can fall apart.
We use nothing but prefinished plywood boxes with dovetail construction, the same boxes found in fine furniture. But because we make them in-house, the price is reasonable and comparable to the melamine boxes supplied by other companies.
What else is Important?
There are lots of other areas we could touch on such as design considerations, green closet components, the debate about floor standing vs. wall hung systems, warranties, customer service, and accessories and options, but alas, these are topics for future blogs. Stay tuned, and as always, please don't hesitate to contact us with any question you may have or to schedule a free, no obligation in home or virtual design consultation.