Building a House? Design Your Custom Closets Now
Picture this: You're building a new home—and you've planned it down to the last detail. You've picked out kitchen cabinets and counters, thought about the layout of your living area, and you've helped design your master bedroom and en-suite bathroom. But have you considered your walk-in closets?
If you haven't considered your main storage spaces, you might be faced with wire shelving that doesn't adjust and just isn't effective come move-in day—a less-than-perfect solution for storing your clothes, shoes, accessories and everything else that needs to go into your walk-in closet.
You might think that custom closets are easier to design and build after you move in, but planning your closet as you build your house can ensure you get the perfect closet now instead of having to work around any issues the space presents later.
Here's what you need to consider while building your house with a custom closet.
1. Your stuff versus the closet space
2. The best lighting
3. Where access panel, light switches and vents should go.
4. How to deal with windows
5. Placement of electrical outlets
1. Your stuff versus the closet space
You already have an idea of how much "stuff" you'll need to store in a walk-in closet. A custom closet designer can take a look at your clothes, shoes, accessories and other "stuff," as well as the plans for your closets and determine if you'll have enough space.
For example, if you find you'll need more space, you might be able to take a few extra feet from the master bedroom and devote them to the walk-in closet. It will make a noticeable difference in the amount of storage you have while not affecting the overall aesthetic of the bedroom.
2. The best lighting
If you're going all-out on a custom walk-in closet, simple ceiling lighting fixtures might not cut it. Designing your custom closet in tandem with a builder can help you and the electrician work together on lighting choices. You'll get the fixtures you want from the start, while saving on the cost of rewiring your walk-in closet later.
3. Where access panels, light switches and vents should go
Speaking of lights, a custom closet designer can also help you plan for small details like where light switches, vents and access panels should go. For example, you'll save space on a walk-in wall by placing the light switch outside the closet. And HVAC vents and returns can be strategically placed throughout the room so they don't interfere with the design of the closet. Finally, access panel placement can also be planned so your closet design doesn't block vital access to plumbing or electrical infrastructure.
4. How to deal with windows
Depending on where your walk-in closet is located in your new house, it might be designed with a window. This will likely make your house look symmetrical from the outside, but a window in your walk-in closet can take up valuable space and even ruin your clothes. If you'd like to keep the window in your walk-in closet design, you can plan to place UV film on it when it's installed to protect clothes from fading, or cover the window altogether. Alternatively, you can alter the plans and eliminate the window completely to maximize storage space.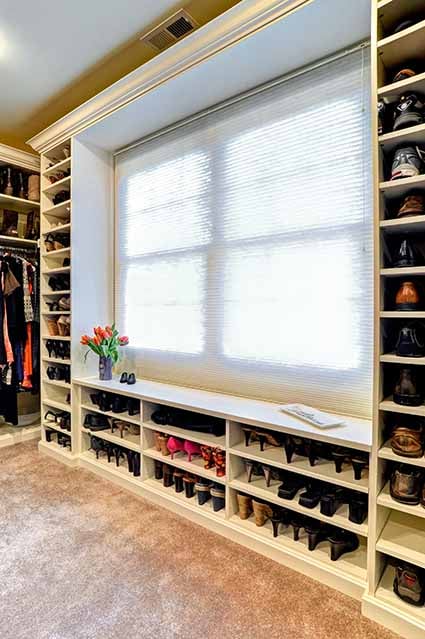 5. Placement of electrical outlets
You might not intend to decorate your walk-in closet with lamps, but you might build a custom drawer that includes a charging station for all your devices. And if your closet is carpeted, you might also need a place to plug in a vacuum cleaner. Working with a custom closet designer can help ensure you have outlets where you need them—and they won't get in the way of shelving, drawers or even hanging clothes.
If you're building your dream home now, contact us to design your walk-in closets.