6 Features We Bet You Didn't Know You Could Customize in Your Closet
You've decided on a custom closet system, which is perfect since you'll get exactly the dimensions that you need. But did you know numerous features inside the closet that are available to further customize making it completely your own? You might be surprised by just how many options there are!
To get you started, here are six features that you can customize to create a organization system that's perfectly suited for you!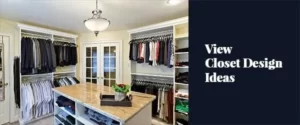 Custom Closet System Features
1. An ironing board when you need it.
2. Tilt-out hampers for tidiness
3. A divider for everything
4. Closet rods anyone can reach
5. Makeup table
6. Tie Rack
#1: An Ironing Board Where You Need It
An ironing board isn't just for the laundry room. Anyone who has pulled a shirt from the closet only to find an errant wrinkle knows how annoying it is to hustle down the hall and iron it. With an ironing board neatly tucked inside the closet, everything that you need is handy.
The Closet Works has a wall-mounted ironing board that folds down when you need it, and a smaller version that pulls out from a shelf inside the closet. When not in use, they're not obtrusive. And you'll never have to wrestle with setting up an oversized board in a hurry again.
See The Closet Works' custom-built laundry room on Houzz.

#2: Tilt-out Hampers for Tidiness
Most people don't get dressed or change clothes in the laundry room. More often it's in the bath or the bedroom, so those areas are where you need a hamper. But hampers can also take up valuable floor space, not to mention the anti-aesthetics of seeing dirty laundry through all of the ventilation openings.
A tilt-out hamper in the closet solves the location and attractiveness problems. This handy feature takes up little space inside a cabinet and looks like any other door when closed. When you need it, just tilt the door down and drop in the clothing. Hampers are metal baskets for good ventilation. And with a pull-out fabric liner you don't have to carry the whole hamper to the laundry room. The same materials, including liner, are available in slide-out baskets for optimal closet organization.
#3: A Divider for Everything
How many times have you searched through the sock drawer or sorted through jewelry to find what you were looking for? Large, open drawers aren't ideal for storing small items that can become jumbled together or tangled. That's where dividers come in handy.
The Closet Works has dividers and drawer inserts for almost anything that you can imagine. Choose from velvet organizational inserts, clear acrylic, matching "egg crate" dividers for small items such as ties or belts, and even two-tier drawer organizers that transform a deeper drawer into useful space for numerous small jewelry items.
#4: Closet Rods Anyone Can Reach
Accessibility issues make the typical closet a challenge to use. High hanging bars might keep clothing organized and tidy, but what if you have difficulty reaching what you need? A lower bar wouldn't use space to its fullest, but there is another solution.
A pull-down closet bar lets you hang clothing at the right height for space considerations, and access it without a step stool or assistance. The rod has a vertical bar at the center, which you can pull down as needed to lower the clothing to the right height.
See the rest of this custom children's closet on Houzz.
#5: Makeup Table
Many of us have experienced the bathroom sink covered in sking and beauty products, with everything from foundation and moisturizer to blush, eyeshadow and lipstick. With all these products it's no wonder why hard for most people to keep everything organized. That is until now.
All of your organization needs can be met with a makeup table built right into your closet – add a mirror and a stool and you have your own place to get ready and pamper yourself. Talk about a great way to start the day! Plus, you will have a place to store everything conveniently and out of the way – giving you your bathroom counter and sink back!
#6: Tie Rack
Too often ties get lost in the chaos of a closet – hanging from various hangers, rolled up in a drawer or getting lost in the bottomless pit of the sock drawer. This can make finding the right tie for work or your next occasion a headache, especially when you trying to find something specific.
With a slide-out tie rack, you have plenty of space to hang and organize each tie by color, style, design etc. Allowing you to easily see, and choose, your tie quickly to finish off the perfect outfit.
Designing a custom closet system takes a lot of consideration. Of course there are the basics such as the dimensions of the space, but even more important is taking into consideration the types of items you need to store and how it's going to be easiest to access them. At the end of the day your custom closet solution should be designed to make you wonder how you ever got by without out it!