An Effective Plan To Finally Organize Your Garage
Organizing the garage can often be challenging for two reasons; the amount and variety of items that need to be stored, and the variation of sizes and bulkiness. There are also numerous other factors that need to be taken into consideration such as how to store potentially dangerous tools and chemicals that could be harmful to ourselves, children and pets. Such items need to be safely stored so that accidents don't occur, so we've taken all of these elements into consideration and come with some effective ways to organize your garage space. If you follow these guidelines you will reap all the benefits of having your garage organized in no time!
Smart Ways To Get Your Garage Organized
What items can I recycle and throw away?
Before you can begin to organize the garage, you should take an inventory of the items you have, pull them out and decide which ones are no longer needed so they can be donated or discarded. Keep in mind that some could be considered hazardous materials like pesticides, herbicides, paint, motor oils and other chemicals and fluids. Recycling can often be complicated so here is a list of the items that can be recycled and some frequently asked questions. It's best to check the expiration dates and recycle any which have passed their prime. During this process you can begin to categorize all your various things. Check to see if they are still functioning (power tools and similar mechanical things come to mind) and see if they are still viable and necessary. Some large metallic pieces like propane tanks and the like are often accepted by local scrap metal recyclers.
What should I store in the garage?
The next step in the garage organization process is to eliminate those items which should not be stored in the garage for safety or suitability reasons. Propane tanks for your grill can pose a potential problem, and they are best stored outside and away from your house if possible. Clothing and bedding can be harmed by moisture and provide a safe and warm haven for critters. If you want to store such items would be better to put them into unused suitcases or other closed containers such as large plastic covered bins before finding them a home in the garage. Fresh foods or pet foods or seeds can attract anything hungry and canned foods can spoil as the temperature increases. Lastly, anything dangerous or particularly flammable should be kept in approved fire-safe containers or cabinets.
Group and categorize your gear
Depending on the number of items you have, it's a good idea to spread out or leave items out so you can consider them; do I want this? Do I need this? And, of course, what is the best most effective and convenient way to store whatever the particular item might be. When placing items in groups consider what will work best in terms of access and visibility. For example, you can arrange things by how often you use them, type, season, size, etc. You need to think ahead here. If you have higher shelves which span from floor to ceiling, you may want to place the lesser utilized together and higher up since you do not need access to them often. If you have cabinets, measure the depth and group the items together that will fit inside on the shelves in a way that makes sense for your needs. Group the items in your garage in a way that works best for you and keep only what you can fit in a given area. If you are considering cabinets it's wise to do some measuring and see how access to them might be impacted if you keep vehicles in the garage. If a hinged door might not be able to be opened with the cars inside, it may well be a good idea to fit the cabinets with sliding doors so that you can have easy access whenever.
Maximize the available garage space
In order to really optimize your space, customized solutions are a smart way to go and are surprisingly affordable. They are designed specifically for the items you are planning to store efficiently organize according to your needs. There are variety of creative and innovative solutions to store the even most challenging gear. Vertical cabinets for example are great for housing taller items like rakes and brooms or even golf bags. Cabinets can be built specifically to hold that awkward patio furniture. In addition, the shelving is adjustable and can hold everything from cleaning supplies to your shop vac. A butcher block workspace can be designed with hooks and clips directly above to keep tools accessible and from getting lost or misplaced. Additional counter spaces and be made to fold up or down as needed. A Storewall system can take advantage of the wall space and keep items like pool supplies, garden tools, brooms and outdoor tools like leaf blowers and trimmers hung and off the floor. There is almost no end to the unique and effective ways to store all kinds of things from sporting goods to bikes to whatever your specific needs might be.'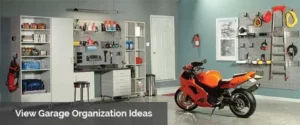 Please let us know what your goals are and see how we can help you achieve them. Let one of our experienced design consultants work with you to create a design that is efficient, functional, and safe. Let's organize your garage together. Contact us today for a free in-home or remote design consultation.