Organize These Spaces in Your Home Before Fall
There's a slight chill in the air and the kids are back to school, which means fall will be here before you know it.
During the fall, work typically gets busy again since everyone's back from vacation. Your kids' after-school activities pick up, and, let's face it, the holidays will be here before you know it. That's why now is the perfect time to make sure your house is organized and ready to go when it's time for those family get-togethers in the coming months.
Here Are 5 Room-By-Room Home Organizing And Storage Tips.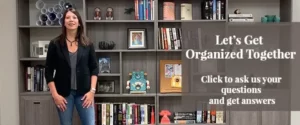 1. The Pantry
You've probably enjoyed a few cookouts over the summer, as well as the fresh fruits and veggies the season brings. You might've let your pantry organization slide a little bit, but now is the perfect time to restore order.
Make sure your kids' snacks are easy to reach by storing them in custom roll-outs or baskets that make it easy to see everything. Consider custom shelves or a Lazy Susan for canned fruits and vegetables, as well as condiments. Clear out expired items—yes, it's time for the out-of-date cereal to go. Organize your spices on shelves or in drawers and baking supplies in vertical cubbies so you're ready for fall baking season. You can even turn to a custom solution for storing odds and ends like tablecloths and serving dishes.
2. The Mudroom
Though your mudroom is not the main entrance to your house, it's probably the one used most often. Reorganize it for fall so each member of your family has a heavy-duty hook for fall and winter coats, cubbies or shelves to stash shoes, a dedicated drawer or basket for gloves, hats and scarves and even a place to sit down to put on shoes or boots.
You can add additional hooks for backpacks, handbags or keys. And don't forget a bin for umbrellas. Keeping this space in order ensures you can find everything you need quickly before you head out the door each day.
3. The Home Office
No one wants to sift through mail during the summer months—that time is better spent enjoying the outdoors. But now that the weather is cooling, it's time to review the papers that have piled up and file them in your home office to make it more inviting. Tidying up now ensures you can be more productive in your office this fall.
Add a mix of open and closed storage, such as drawers, cabinets and shelves, to help you effectively store important papers for all of your family members. And if you haven't already, create a filing system to curb future clutter. It'll help you keep necessary documents and receipts in order; the holidays will be here before you know it, and then it's tax time.
4. The Garage
Unfortunately, it's time to put your gardening equipment away, as well as those beach chairs and the kids' sand toys. Summertime is winding down, which means it's time to get your garage in shape.
Adding custom garage storage for beach and garden gear, as well as a spot for your tools and even your bike, can help you make space so you can actually keep your car in the garage this winter when the weather's not so great. And speaking of weather—now is the time to organize your garage and ensure you've got room to store shovels, rock salt, de-icer and any other cold-weather necessities. Try a floor to ceiling slat wall system with plenty of hooks, baskets and holders to keep all necessary equipment off the floor.
5. The Master Closet or Your Kids' Closets
Cooler weather brings a change of wardrobe for everyone in your family and the opportunity to start anew, whether you've got a reach-in closet or a walk-in closet. Now is a good time to review your summer wardrobe for clothes you didn't wear this past season and your fall outfits for clothes that might not fit—like those jeans you've been holding onto for ten years.
You should also see which clothes your kids have outgrown and add them to the donation pile, as well as which clothes have seen one too many grass or mud stains—and throw them out. Donate any clothing still in good condition to a worthy charity. You'll feel good about it, and you can write off the donation.
Consider adding custom storage to help you stay organized, such as shelves for knits and sweaters, more hanging storage for blouses, dresses and pants, and even drawer organizers for jewelry and watches.
Tidying up your house before the cooler air hits will make the transition to spending more time in your home a little more pleasant. If you need help transforming spaces in your house into organized rooms where everything has its place, reach out to schedule a free, in-home consultation.