Feng Shui Basics for a Better Closet and a More Organized Life
Whether you sat in back-to-back meetings all day and didn't accomplish much "real work," you spent your commute in traffic or you simply have too much to do in too little time, it's easy to get stressed out every now and then. And finding ways to manage stress can sometimes cause you only to stress out more.
One area of your life that may be contributing to feeling stressed could be coming from where you least expect it: your closet. Searching for a shirt hidden in a sea of hanging storage, struggling to find a misplaced pair of shoes or even untangling a mess of necklaces to find the right one during your morning routine can throw off your whole day.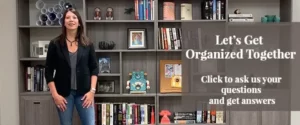 If this is a frequent occurrence for you, it may be time to consider embracing feng shui. Understanding how to create a space with good energy flow could just be the medicine for what ails you. Having a well-designed closet can help you not only get organized but also feel better about yourself and a little more in control of your life.
What is Feng Shui?
Feng shui is the ancient Chinese practice of placement. The goal is to organize your surroundings to create harmony and balance – transforming your space to enhance your life. For those who believe, finding a balanced design in your closet can help unblock energy in a space you spend time in every day. It's thought that showing respect to physical spaces—yes, even your closet—can bring more peace to your life.
Here are some tips to bring a better flow to your closet.
1. Declutter, De-stress
Maybe it's been a little while since you really took a look at what's taking up space in your closet. Take some time to review the clothes, shoes and accessories in your closet to see everything—even the items lurking out of sight.
We often stress here to get rid of old clothes, ones that are a touch too small or have stains and holes that can't be fixed. But it's also important to get rid of any random items that don't belong in your closet. Find things you can relocate to other spots in your home to create more space. The practice of feng shui sees clutter as blocking the flow of energy in your closet and life.
2. Color Coordinate
After discarding or donating things you no longer need, take a look at everything you're going to keep. Color is an important "tool" in feng shui that can shift energy in a space. Organizing your clothes by color can help create a presence of good energy, or good "qi."
Start by organizing different items by color, then type. For example, first put all your blue shirts together then organize those shirts by shirt length or type. Repeat these steps for each color and type of shirt.
3. Spruce It Up
Take a look at what your space may be missing. Good lighting, some meaningful décor and even a fresh coat of paint could make all the difference in bringing in good energy. Paying attention to these details in your closet can help the space (and yourself) feel refreshed.
4. Redesign
Make sure you have everything you need to organize and shape your space. Analyze if you're maximizing the utility of each drawer and hanging storage space, or if you need to find a new way to organize your things. It may mean just adding clear storage bins and drawer organizers or it could be time for a bigger upgrade to a custom solution to create a calm, decluttered space.
If you're interested in learning about our custom closet solutions, reach out to us for a free, in-home consultation.