Garage Organization – It's Not a Myth!
Cleaning out the garage and getting it organized is something that we always tend to place on the back burner for the simple reason of it being overwhelming. The truth is, it may not be as bad as you think. You just need the right plan in place before starting the process. When done the right way, an organized garage will not only save you time from looking for items, but alleviate the stress caused by not being able to find something. Think of the time and money you could save by keeping things from becoming damaged or lost.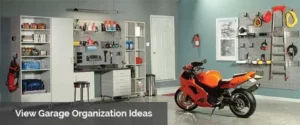 There's a lot to consider when organizing a garage
Maybe your needs are simple, just lots of storage to hold you gear. However, there is more to it than that. Will your items be easily accessible? Will they be stored in a safe way? Will tools and sharp implements be out of reach of little hands? Will toxic chemicals, paints, thinners and the like be locked away from curious kids looking for something to open? Can garage organization truly be achieved? You bet it can.
How about access?
Having access to items in your garage starts with keeping the floor space clear so you can get to your items safely. This can be accomplished in two ways. First, go vertical and utilize the wall space effectively. A storeWALL system can effectively store a variety of items regardless of the shape or size. It is completely customizable with hooks, shelves, brackets, bins and baskets which are properly configured for the right weight and size of the objects you are planning to store. Second, choose the proper cabinetry for the space. Will the cabinet doors be able to open with your cars in the garage? (Yes, you should actually be able to once again park your chariot inside the garage and not in your driveway). They will – if the system is designed properly, either incorporating swinging doors with proper clearances or sliding doors as an alternative. Inside the cabinets, store items in a way that makes sense to you. You may want to group similar items together: sports, tools and outdoor yard equipment. Or you may choose to put the more frequently used items on the middle shelves with the lesser used ones higher up.
What can I do to ensure items are stored safely?
Safety for garage items comes in three forms. One is in the type of items you should and can store in the garage. Another is to ensure that they are stored in such a way that they do not fall and cause injury. Third is keeping harmful items away from curious pets and children. Let's start with the type of objects that should not be stored in a garage.
Anything that can be damaged by changes in temperature and humidity levels should not be housed in a garage space. This includes papers, photos and delicate fabrics. Any flammable items like paint, cleaning products and propane tanks should not be stored near a source of heat and should be away from the home.
Keeping gear secured so it does not fall and harm someone is a safety must. Ensure that you are not exceeding the load capacity of your shelving. Drawers, a work bench, a potting bench, tool storage or hobby space – all of these and more can be integrated into your design.
Making sure hazardous items are kept away from children and pets is simple enough. Locks can be added to cabinets or drawers to secure any dangerous chemicals or tools. Roll-outs are also beneficial to ensure bottles and cans are more accessible and easier to reach.
What can I achieve by having my garage organized?
With proper garage organization you will be able to easily locate infrequently used tools or home-care items. You will avoid a trip to the hardware store just to buy a package of anchors, only to discover you had 2 boxes already. Everything will be accessible and close-at-hand for projects big or small and everything can have its own storage space. What a concept! Contact us today for a free in-home design consultation.