Garage Storage – Not Mission Impossible
Storing and organizing the items in your garage can often seem like an impossible mission, but it doesn't have to be. Of course, let's be realistic and not over-complicate things. The objective is simple, organized placement of all of your items, so they can be retrieved quickly and easily without risk to life and limb. We recommend coming up with a plan before attempting to organize your garage so you can truly create a space that is functional.
Here are some garage organization ideas to ensure your items are stored safely and easily accessible.
The essence of being able to store your belongings in a neat, orderly and rational fashion is knowing what you are storing and making a plan.
Creating a garage storage plan is an exercise in common sense. Start with identifying the type of items you are storing. HGTV suggests deciding on categories for your garage items (for instance gardening, seasonal, automotive) and then physically moving all items into their groupings. That way, you will know exactly how much space you need for each group of items before you make a plan. This is a good time to donate or discard the items that are orphans or broken.
Take notice of all the things that are being stored in your garage, including their size and weight. Consider their danger factor like the sharpness, weight, biohazard or flammability. Pruning shears and other blades, weed killers, gasoline, oil, paints, solvents and power driven tools all need extra attention to ensure they are stored properly and safely out of reach of kids and pets.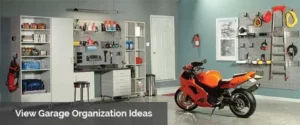 Don't forget about the basics when it comes to storage.
Now that you have gone through the various items, know how much space you need and know about appropriate storage, it's time to decide where exactly you would like to store them and the layout that works best for you. For example, if you need to store pool supplies, you will need a unit that has the proper height to hold skimmers and you may consider locked cabinets to safely hold chemicals like chlorine.
Consider clearance when deciding between sliding, swinging and flip-up doors. Think about shelf capacity when deciding where to store heavier and more cumbersome items or for things which might slide or move when being stored or retrieved.
Identify the goals for the garage space.
Know what you would like to accomplish and construct a plan to help you achieve those goals. If the goal is to store a car or motorcycle in your garage, your plan to declutter and organize needs to result in gaining more space. Getting to your stuff, like that container of Gorilla Glue or the beach equipment you haven't had your hands on in months, shouldn't jeopardize the integrity of the bodywork or paint job.
For someone working on arts and crafts and other hobbies, a proper workspace with lighting and storage is essential. Durable workbench tops can be constructed of butcher block or HPL. Supplies should be nearby and easily accessible in drawers or wall mounted tool racks. Plan and give each item its own designed place so you know where each item is and where it should go when you are done with it.
If this sounds like a project that you are better off not attempting at home alone, well, good! Then you get it…contact us for a free in-home consultation and make your garage the envy of the neighborhood!