Great Storage Spots For Your Vacation Gear
If you own a vacation home, chances are you will be having guests during the summer months. And you know with guests, come a ton of belongings including clothes, towels, floats, bikes, boards and more. Not to mention all of your own gear. You need creative solutions that will not only store all of these items, but keep them out of the way and organized to ensure there is enough room for your visitors.
So where are some great spots to store your vacation gear?
1. Garage with a storeWALLTM system
A storeWALLTM system for the garage has some great storage options that you may want to take advantage of for your home. By utilizing the wall space effectively, items will be removed from the floor and tripping hazards are minimized. Bikes can be placed lower on the wall on brackets for ease and accessibility. Mesh bags and wire baskets are great for storing balls, buckets, shovels and outdoor recreation equipment. Large items like canoes, surf boards, kayaks and boogie boards can be stored vertically or horizontally based on their size. All of the hooks, brackets, baskets and shelving can be arranged to effectively maximize the space for your needs. All accessories lock into place for security but are completely repositionable. Panels are available in a variety of colors and woodgrain patterns and also standard or heavy duty grade.
2. Mudroom
A really successful mudroom is one that is ready for everything that may be dropped off the minute everyone comes in the door. When you think of all of the gear that's taken to the beach, out on a picnic or for a hike, an entryway space should make it really easy for everyone to put their belongings away as soon as they come into the home. The trick is to get them to wash the sand and dirt off before they do! Custom shelving can store lunch bags, coolers, beach mats, blankets and extra beach towels. It's important to have plenty of hooks for hats, beach bags and jackets. Just a couple drawers can hold beach or pool passes, sunscreen, wallets and keys. A bench area to put on shoes with shoe storage underneath adds the perfect finishing touch. The trick is to give each item its own designated space so it becomes instinctive for people to find (and put away) all of the outdoor gear.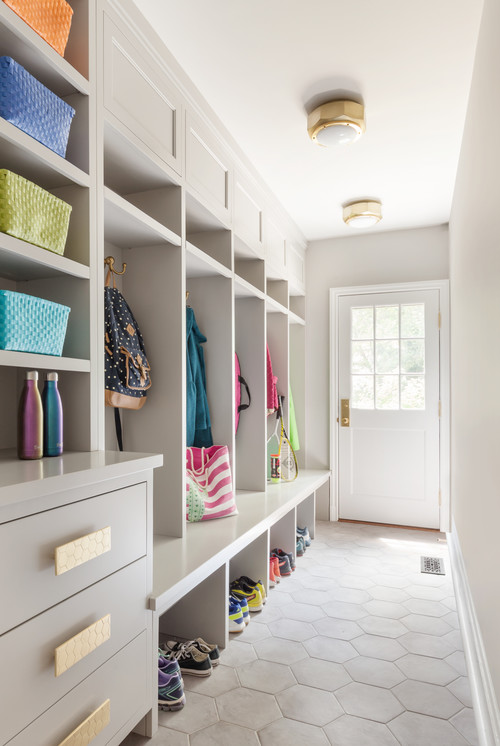 Photo by Clean Design – Discover entryway design inspiration
3. Linen Closet
Don't forget to properly prepare your linen closet for summer guests. After being out for the day, guests may want to freshen up and get ready for the evening. Baskets and shelves house toiletries, lotions, soaps and shampoos. Be sure to stock the shelves with plenty of extra bed linens, pillows and towels so they are visible and readily available to make your guests feel more comfortable. You can even leave a few areas open in the linen closet for your guests to store their own toiletries so they feel more at home.
Keeping your vacation items organized and stored properly will not only ensure things are accessible, but will also reduce the likelihood of something being misplaced or forgotten when packing up to return back home. For more ideas and a little more summer inspiration, feel free to reach out to us for a free in-home design consultation. Our Designers have years of experience helping people develop an organization system for their beach, mountain, lake or shore home that makes accommodating guests and their belongings more manageable, which makes everyone's vacation more enjoyable!