Guests Will Be Here in 20 Minutes! Tackle Last-Minute Clutter
When the holidays hit, even the most organized people can easily get overwhelmed with all there is to do. You can make lists and keep a calendar to stay on track, but it's still tough to keep your house organized through the baking, gift-wrapping and cooking—not to mention most people take on these tasks while balancing all sorts of holiday-related events.
Whether guests are dropping by with little notice, or you've planned an event weeks in advance, you've got to do one last pass through your house to ensure it's ready to entertain.
Here are our last-minute decluttering and organization tips to tackle before the doorbell rings and your first guests arrive.
Tidy Up Your Entryway or Mudroom
The guests who visit frequently know to use the side entrance to your mudroom, but if you're hosting relatives or friends for the first time, they might choose to enter through the front door. Either way, you need to quickly declutter and organize both spaces.
You're probably glad that your kids take off their shoes when they enter the house this time of year so they don't track snow or mud through the house. But if there are extra pairs of boots and sneakers sitting in your entryway, move them to their rightful storage area. Place them back in cubbies or on shelves in your mudroom if you've got the storage space for their shoes and those of your guests. If you're short on space, ask yours kids to put them back in their own bedroom closets.
Take this time to look at your front and side doors and make sure they're clean. Shake out your doormat and wipe down the door and the floor just inside. This is the first thing your guests see, and these first impressions count!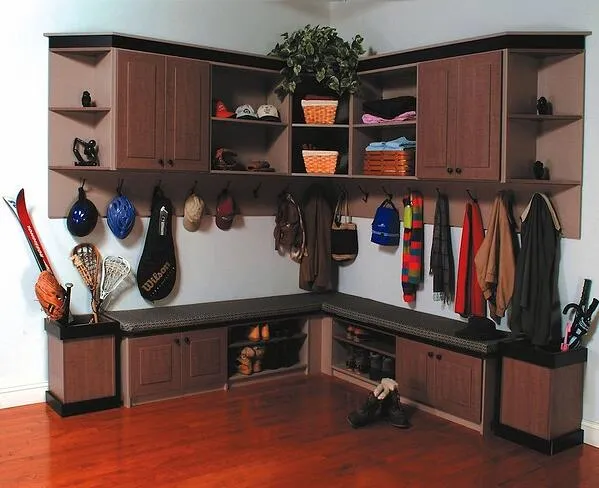 Make Your Coat Closet Just For Coats Again
If your house is like most people's, your family's "coat closet" isn't just for coats. These spots slowly become a place where you stash small appliances like the vacuum, cleaning supplies and school bags. Move everything except coats from your coat closet to another closet, such as the one in your guest room, before your guests arrive.
While you're decluttering your closet, you should also get rid of old wire hangers from the dry cleaners. They won't support the weight of heavy coats and they're just taking up space. Instead, make sure you've got sturdy hangers for your guests' coats so you can quickly hang them as each person arrives.
Organize Your Mail and Schoolwork "Drop Zone"
Christmas cards and shopping catalogs can add a lot of bulk to your mail pile this time of year, whether those items land on your kitchen counter, in your mudroom or in another spot in your house. This same spot is usually where kids drop their school projects, too.
Quickly sift through these areas—hang up or display your holiday cards and kids' art projects, recycle or throw away catalogs and move the rest of your mail into a holding zone in your home office so you can tend to it later.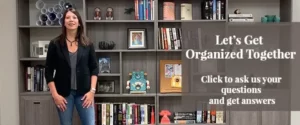 Give the Guest Room & Linen Closet a Once Over
If overnight guests are set to arrive, you've likely done a deep clean of the guest room already, complete with clean sheets and a spotless bathroom. Now's the time to do a final once-over to make sure each pillow is in place and the guest room hasn't become a stash zone for any other family members' stuff.
Take this time to review your linen closet once more. Is anything a guest might need, such as toiletries, towels, toilet paper and soap, easily accessible? If not, move it to an easy-to-see shelf or basket. If your linen closet is otherwise cluttered, remove those items and store them in your room.
Do One Final Walkthrough
After you've cleaned up the clutter zones in your home, do one final walk through each room to collect anything that may be sitting out, such as a random toy or two, a pair of shoes or slippers outside the mudroom or a jacket or hoodie that's hanging out on the couch. Drop these items in their rightful storage spots.
Fold the throw in your living room, put away the remote controls, fluff the pillows and light some candles.
Finally, Don't Panic
Your guests are visiting to spend quality time together, not inspect every inch of your house for dirt and clutter. When your friends and family arrive, enjoy your time with them!