How to Help the Man in Your Life Get—and Stay—Organized
It's a simple fact (or at least it seems to be): Most men have a harder time staying organized than women—they're not offended by clutter in the same way and, sometimes, they'd rather just take off their shoes and leave them in the middle of the mud room, living room, hallway, bedroom or bathroom.
The challenge with keeping the man in your life organized is that, in order for it to work, it needs to be effortless for him. This means that sweaters and jackets need their own place, and so does that pair of sneakers—and staying organized needs to be as convenient as possible. One way to help him get—and stay—organized, is to build a completely customized walk-in or reach-in closet.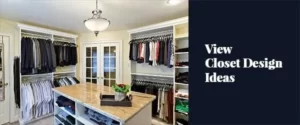 And since Valentine's Day is right around the corner, you might be thinking about a great gift for the man in your life. A custom closet is not only a great gift to help him stay tidy, it's a great way for you to get organized, too. A custom closet can fit both your needs so your clothes, shoes and accessories are organized, and your mornings are stress free.
Here's how you can give the man in your life the ultimate in completely customized organization with a custom closet.
1. Maximize Hanging Storage
The single hanging rod he likely has in his closet right now isn't optimal. A custom closet solution can help you maximize the space with double hanging storage for clothes—and even triple hanging storage just for folded slacks. Increasing hanging storage in his closet will give him plenty of space for his clothes so he doesn't have to squeeze everything on one hanging rod.
2. Organize T-Shirts, Sweaters and Other Folded Tops
Drawers or open shelves are the perfect spot for your husband to neatly fold t-shirts and sweaters after laundry day, root through one morning when he's searching for the right undershirt, and never refold the pile. But there's a solution to that problem: Cubbies. With a custom closet, they can be built to any size, which means that the neatly folded t-shirts, sweaters or other tops will remain in their spot, and they'll be wrinkle-free when he's ready to wear them.
Bonus tip: In addition to using cubbies for t-shirts and sweaters, they're also a great place to store baseball caps and other hats.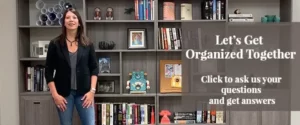 3. Give Small Accessories a Place So They're Easy to Find
From his watch, to the pair or two of cufflinks he owns, to pocket squares, to the items he carries every day, it's important to create a space for small accessories in a man's closet. A top drawer is a great place to include a velvet drawer insert to safely store valuables like his wedding ring, watch and wallet. And if he needs more space for watches, for example, or has more specialized needs, a custom drawer insert can be created to help him store them.
Another drawer can include a custom charging station to store and charge his phone, tablet or step counter each night. It's a functional and tidy solution that eliminates cords and keeps electronics safe.
Bonus tip: Place a small tack board above the top drawer so he can pin receipts and other papers collected throughout the week so they don't end up in a pile on his nightstand—or anywhere else.
4. Make Finding a Matching Belt or Tie Easy
In his current closet, belts don't really have a place. They may be piled in a sock drawer or draped over the top of a dresser. Similarly, neckties might be knotted around a hanger. This not only looks messy, it also adds creases to the tie.
Luckily, there's an easy fix to this problem. Tie racks and belt racks can both help the man in your life stay organized and easily find what he's looking for each morning.
5. Give Shoes Some Shelves
One myth about men is that they don't have as many pairs of shoes as women. These days, most guys have several pairs of casual and dress shoes—and probably some sandals, too. Therefore, they need a good place to store them that doesn't involve leaving them on the floor somewhere. Flat shoe shelves are the best option to store shoes so he can keep them in organized pairs.
Bonus tip: Store them with the toes facing in so he can see when the heels on his dress shoes need to be repaired or replaced.
6. Create Storage For Laundry and Dry Cleaning
Get rid of the plastic hamper he's got sitting in the corner of the closet or bathroom and replace it with a better solution. A custom closet can incorporate a tilt-out hamper or two—one for laundry, one for dry cleaning—to give dirty clothes a storage spot until laundry day. If he's got his own hamper or two in a convenient location, there's a better chance it'll get used.
Working with a professional closet design consultant to help design a space that's perfect for him (and you) can help you leave behind the days of lobbing a t-shirt onto the top shelf or stuffing a hanging rod full of dress pants. With a custom closet from The Closet Works, you can design the space that fits your needs perfectly and that improves his morning routine to help him start each day off right. If that isn't showing some love, we don't know what is.
How do you help the man in your life stay organized? Let us know in the comments below, and if you're interested in discussing any of these organization solutions more, reach out to us for a free, in-home consultation.