How A Great Closet Design Can Change Your Life
Adding storage to the home is always a welcome process. In many instances today, however, it is not only welcome, but necessary due to the increase of families who now use their homes to telecommuting, starting a home-based business, or homeschooling the children. Whether your family is taking part in one of these trends, or you just need a really great closet design, here are some tips that will help.
Enhanced Organization Yields Enhanced Productivity & Value
School, office supplies and the materials needed for home-based businesses can take up a lot of space in your home, especially if you do not have the space to store them properly. Haphazard storage can cause damage to the items being stored, as well as causing a lot of unnecessary frustration if an item is not easy to find when it is needed. A really great closet design or storage system can help entrepreneurs and home schoolers, as well as crafters, hobbyists, artists, and many others add convenience and eliminate this type of frustration.
In addition, well-designed closet systems and home organization products can make your home look neater, appear more spacious and create added use value for the entire family. At the end of the work or school day, the materials, tools and supplies used can be stored safely and easily in the storage space, ensuring that the family can also derive use and enjoyment of the space during after school or work is over. This allows each space to do double-duty, which is a huge benefit for smaller homes.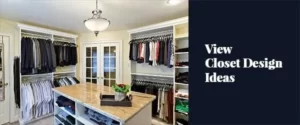 Match the Closet Design to the Intended Use
A truly great closet design will provide customized storage for the particular type of materials and supplies you use. The first decision, however, will be to decide whether you want to organize a standard closet or whether it would be more convenient to add open storage to a wall in your studio, office or workspace. Before making a final decision, take into consideration any special storage needs you might have for the materials you will be using in your home business, office or schooling space, such as:
items could fade if exposed to light, such as delicate fabrics or papers
items susceptible to fluctuations in heat or humidity
convenient space for printers and other office equipment
bins, trays or baskets for small items
locked storage for valuables or ingredients that could cause harm to children or pets
Look at Several Possible Configurations to Get Additional Ideas
When trying to choose a great closet design or organization system for your home business, school room or office, it can help to look at as many possibilities as you can to get ideas. By contacting The Closet Works, Inc., a leading supplier of home organization systems, you will be able to see all types of home organization products and choose ones that will maximize your space, protect your supplies and materials and look beautiful, as well.
Our customer service representatives are specially trained to help you choose a system that will complement your home while maximizing your storage needs. Whether you are interested in organizing a single closet or an entire wall, they can help you find one that is just right for your storage needs and your budget.