How to Create Closet Solutions for Your Home That Really Make a Difference
Being in business for over 30 years now, we find that people need help with organization for a variety of reasons. Maybe they are looking to downsize and need to fit more into a smaller space. Their family is growing, and they need better storage for more items. They have recently moved into a home and are finding that the closet system is really not sufficient for their needs. Whatever the case may be, closet solutions that are customized and work for your stage of life and your specific needs are the ones that are most impactful.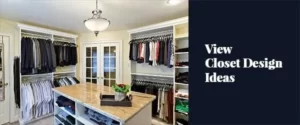 So how do you design a closet system that really make a difference?
When you have serious storage problems and your belongings seem to be gaining the upper hand in the never-ending struggle to maintain order, you simply need to consider a few basic strategies to ensure you create closet solutions that really make a positive difference in your personal struggle against clutter. Let's face it, we all have lots of things and need access to them. There are times we don't always do the best job of creating storage solutions that are truly functional and targeted to specific areas of our home.
The entire point of creating closet solutions that really make a difference is to reach that goal of having your belongings visible, accessible and well organized.
You want to be able to get it easily when you need it – and have a place to put it back, so when you need it again you don't have to start a search party. In other words, making life easier.
And it's important that each area in your home be organized in such a way so that the specific needs of that particular space be met appropriately.
In your clothes closets you want to be able to see the clothing. If you can't see it, you won't wear it. You want the garments to have enough space so they are put away appropriately and can stay in their best condition, without wrinkles or becoming mishappen. For example, it's not a good idea to put a garment that sheds (like an angora sweater) next to a garment that is like a magnet (a velvet dress comes to mind).
Same goes for a kitchen pantry. Any item that sits back in the deep, dark corner of a shelf is not going to get seen or used. The expiration date comes and goes and money is wasted. Ingredients that are used most often can be kept together in a Lazy Susan which rotates giving visibility to all contents.
You want to organize the way you want things to be.
Organization is different for everyone we need a system that works for us. Maybe you prefer to organize clothing by color or season. If you are very active, you might change clothing more frequently between work and activities, going from dressy to more casual or active wear. Therefore, organizing by clothing type is preferred. Some like to be organized the way they get dressed, with shirts and blouses on hanging bars above and pants folded on shelving or cubbies below. Followed by shoes underneath or in an adjacent cabinet on shelving depending on the footwear type.
Whatever your style or preference may be, you want to make sure it is easy to get to everything and to have all the clever accessories that make it easy to put your closet together in the best possible way. Don't overlook the impact that accessories can provide for your project. For example, a valet bar to use when taking plastic off dry cleaning or putting together an outfit is incredibly useful. There are also dedicated storage systems for your shoes, your scarves, your belts, your handbags and more. Remember, that's the goal when creating closet solutions that work.
Similar but different specific strategies must be applied to all of the other areas of your home that you wish to organize.

For your laundry room, where do you put the ironing board or dry delicates? Fold-out ironing boards and drawers with integrated drying racks save hassle, time and makes the process of doing the laundry more time efficient.
Same goes with your mudroom. Where does everyone in your family place their items when coming in the door? Many prefer a locker style configuration giving each family member their own space. Coats and jackets get hung up on hooks, hats and gloves get put away in drawers and shoes get stored underneath in cubbies. Everything can get put away just as easily as they can get grabbed when going out the door.
Whatever the space, there are strategies, guidelines and accessories to make the organization and utilization really function optimally, and to make the most of your investment in closet solutions for your home. Need some more ideas? Contact us today and our professional Designer can help you get started during our free design consultation.