How To Organize School Supplies
For many across the country, August 30th will mark their first day back to school. The start of the 2021 school year brings up concerns, with one of the most common being how to get kids organized and keep them organized. Whether your children are learning virtually or will be back in a classroom, here are our best tips and tricks for organizing school supplies – and keeping them that way!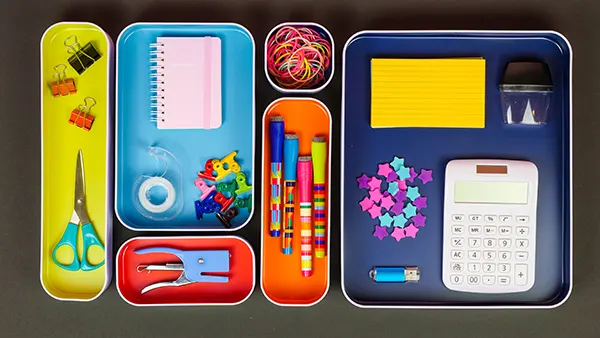 Best Hacks For Organizing School Supplies
Tip #1 – Collaborate with Your Child
Before school starts, it's important to gather the basic school supplies your child will need because the detailed list(s) they receive from their teacher or teachers won't be available until after school starts. If you jump the gun and buy too much too soon, you may find yourself spending money on items your kid might not even need. So, we recommend you start off with these essentials:
Backpack
Lunchbox & water bottle
Notebook
Pens, pencils and highlighters
Hand sanitizer and/or hand wipes
Fast forward to the Friday after school has started. More likely than not, your child will have received their supplies list from each teacher, meaning you're ready to go shopping on Saturday! Hold your horses, however! Before you head off to Target or Walmart, sit down with your child and review the lists together. This will help you avoid unnecessary or duplicate purchases, but you can also make the experience exciting for the new school year! Another benefit of this process? Based on the supplies they'll need, you can plan for the organizational tools required, whether they be bins, a mobile cart, drawer inserts or more.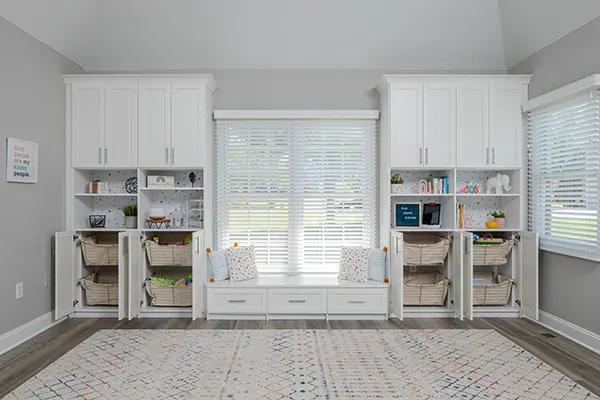 Tip #2 – Decide Where You Will Store School Supplies
The first question you should ask yourself and your child is where's best to keep/store all or some of these supplies? There are two approaches you can take: centralized and decentralized.
A Centralized Location – The benefit of this approach is everything your kid or kids need for school will be in one place or room of your home. Consider where they will be doing a majority of their homework – is it in their bedroom, a playroom or a home office? You can also utilize a designated corner in the living room if they don't have a playroom or if the home office is claimed by another family member.
Decentralized Locations – The benefit of this approach is everything your child depends on will be in a location that makes sense. For example, their shoes and backpack can be stored in your mudroom, while their lunchbox is kept in the kitchen pantry and their homework supplies are stored in the playroom, home office or bedroom.
There is no one-size-fits-all method, so remember: if you tried one approach and it doesn't seem to work, simply try the other or tweak them to fit your (and your child's) preferred method of organization.
Tip: If you don't have a dedicated workspace for your child, consider installing a wall-mounted fold-down table fitted with secured supplies holders above. You can use an empty wall in any room of your choosing. The benefit? Your child has a designated workspace that takes up very little room when not in use.
Tip #3 – Once We Know Where, Let's Decide How
Consider using any or some of the following storage solutions mapped out below, such as:
A wall unit with cabinets and/or shelving, in addition to cubbies, is best for books, boxes, paper and anything else you can think of that could be on a school supplies list.

Use bins or baskets to hold the items listed above and more, like pencils, pens, notebooks and workbooks.

Labeling these bins goes a step further, as does color coding

A rolling cart with several tiers not only offers mobility in a playroom or bedroom but can be a great choice if you've created a make-shift workspace using a fold down table. You can roll it out when needed and roll it back into a nearby supply closet or into a corner when idle.
If your child has a desk, consider a storage tray with dividers to go inside the drawers. Whether it be pencils, scissors, a ruler, calculator or anything like that, storage trays offer a place for everything (so everything is in its proper place!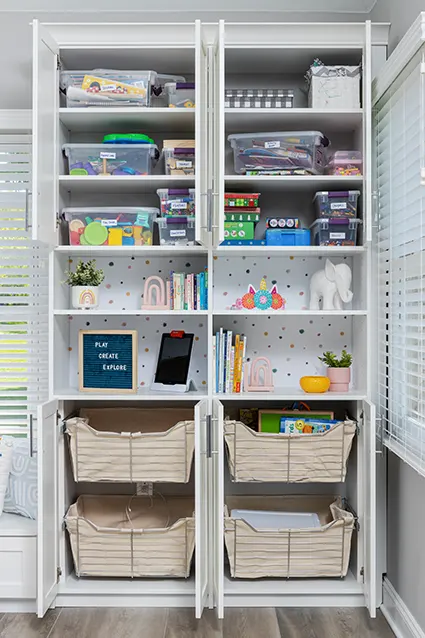 Tip #4 – Organize Together
Now that you've purchased school supplies, decided where they'll go, and you've determined how they'll be organized, all that's left is to organize them! We recommend, if it's possible, to do this with your child. Not only will this give your daughter or son a sense of ownership during the process and the room/space in which they'll be doing schoolwork, but it's also a great chance to bond. Put on some of your favorite music, gather some yummy snacks and have fun organizing together.
Tip: To keep school supplies organized throughout the year, you can add it to your child's weekly list of chores.
Interested in learning more about getting organized or The Closet Works' installations? Request a free consultation with one of our professional Designers today.