How To Pick the Perfect Design Color for Your Interior Design Project
Picking the perfect color for your design is hard for multiple reasons, but through the extensive experience of our design team, we have ascertained what we believe to be the two most common difficulties customers encounter.
Most people don't know how to start the selection process
There are many color options
All you have to do is google "how to pick the perfect color for _______" and countless articles from Sherwin Williams, HGTV, Home Depot and even The New York Times appear, making your selection all the more like finding a needle in a haystack. The selection process could potentially spoil what should be an exciting next step in creating your personal Shangri-La.
With regard to color options, we looked online at a prominent paint seller to see how many different offerings of white and ivory they have and guess how many there are? 5… 10… 20, tops? Nope, there are over 275 white or ivory options available. This same paint retailer also carries 140 options of granite when selecting a countertop. When did quality become about quantity?
Using our 5 tips below, picking a design color for your home will neither be a disheartening process nor an overwhelming selection of color, but an enjoyable undertaking (or at least a fun challenge!)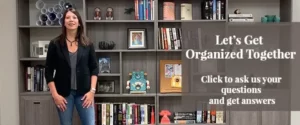 Tip #1 – Approach Your Project With the Right Mindset
Before you look at color options, choose an interior designer or partner with a custom installation company, be sure to take a moment for yourself and determine what you hope to achieve in the space you are tackling.
If it's a walk-in closet, are you hoping to only store your belongings, or would you like the space to serve as a place where you can relax for the moments you're there?
Do you need your home office to stimulate your creativity or are you aiming for complete focus?
Is the mudroom at the side entrance of your home a booming announcement or a subtle statement?
Ask yourself these questions and remember there are no right answers – there are only your answers and your answers are right! Lastly, to be in the right mindset means to manage your expectations, too. If you approach your project from the beginning without aiming for perfection, we guarantee you will enjoy the entire process far more than if you had that target in mind.
Tip #2 – Source Your Inspiration  
 "Be faithful to your own taste, because nothing you really like is ever out of style." – Billy Baldwin, famous interior designer during New York City's peak in the 1960's
Knowing your sense of style and sticking to it is crucial when embarking on a design project. Having a fair-weather sense of taste only bodes ill. What if, though, you can't define your sense of style in one word or describe your aesthetic coherently? What if you're a combination of different decades, different colors, textures, livelihoods and so much more? Style "misfits" should explore Pinterest, magazines or any format like movies or tv clips that have a look or design that resonates with them. Inspiration is the key to creation and makes the actual selection process much easier!
If you're not a style misfit and know for a fact your taste resides within classic Americana, then the inspiration sources listed above are great, too. When working with a partner on implementation, very little will be lost in translation if you have inspiring examples.
On a final note, when choosing sources of inspiration just remember what Billy Baldwin said – be faithful to your own taste.
Tip #3 – Choose the Right Partner
Now that you have the right mindset and you've sourced examples of inspiration for your design project, you now need to choose the right partner. We understand that working with a Designer or space optimization specialist may not be a feasible option for your project depending on the scope and your budget. However, some projects will require you to hire a painter, contractor, interior designer or custom closet installer due to the size and difficulty. Even if it's just painting the walls in your kitchen pantry (which you are determined to do yourself), you want to make sure you purchase the paint and equipment needed from a reliable retailer – a partner. Therefore, whomever you choose to work with directly or indirectly, make sure you choose the color and tools you want. Do not allow the partner you choose to push or bully you into a color or tools you don't want or need. On the flip side, make sure that your partner provides guidance based on their expertise and are open-minded to that guidance.
"For me, when I am working with a client in choosing a color, I first start by asking them if they are looking for the color to imitate wood grain patterns. Then I will ask them what family color appeals most to them – natural, greys, darks, etc. Oftentimes, I ask them what door or drawer style they are most interested in, but this plays a very large role in what color they end up choosing because not all colors are available in drawer and door styles."
– Jennifer Guido, Designer with The Closet Works Inc., elaborating on how she helps her clients select color for a project    
Tip #4 – Curate With Care, and Sample
You've selected the right partner for your color design project and after an alignment meeting and some careful consideration, you're ready to see color options. When curating your options, be sure to understand your own limits, as it is common to experience "paint paralysis" when presented with too many color options in tandem with great expectations. Limit yourself to how many blue hues you review so you don't end up with 20 paint chips that you can barely tell apart. If you don't have an idea on a blue shade, for example, start with light choices and work your way up to darker options.
Now that you've curated the recommended 3 to 5 color options, it's time to sample! If you're sampling colors in order to paint a room or for a piece of furniture, apply samples of that paint color to the wall and/or a patch of color to the surface you intend to use it on. This is important because the texture of the surface you're working with, along with the lighting of the room and its shape, can impact how that color is experienced. If you're sampling colors for a new design element such as a free-standing wardrobe, have samples of the type of material that will be used, like wood panels. Regardless of the interior design project, sample! You wouldn't buy a new car without trying it out first, would you?
Tip #5 – Be Confident
After you sample your color options and select the final shade, all that's left is the implementation. This is where you may buckle or reconsider your selection. Self-doubting questions may start rushing in, implying that the choice you've made could be better and ultimately urging you to put on the brakes. Or at the very least, you may allow the installation to begin but you are hesitant and pessimistic, rather than excited. Don't allow yourself to second guess your color choice! You know your taste best – if your first instinct after seeing all of the blue samples was Navy Blue then stick to that Navy Blue. Trust yourself that your taste (and partner) will lead you in the right direction.
We live in an age defined by customization, but with options galore available to all of us, it's no wonder why the process of selecting a color for your interior design project can be intimidating, to say the least. If you approach the color selection process properly however, you can, at the bare minimum, feel in control of the process and optimistic about its outcomes. Remember though, that there are just as many approaches to the color selection process as there are people. Some may not want to follow a process at all, finding it too restricting While others may determine that they need to create their own approach, for there isn't one available that is as detailed as they'd like. Whichever camp you belong to, including those who mingle in between, always consider the most important rule of all – the only rule in the color game: your color, your choice.
Interested in learning more about getting organized or The Closet Works' custom closet installations? Contact us today for a free design consultation with one of our professional Designers.