Keep Your Mudroom Clean and Organized
If you're lucky enough to have a mudroom, you already have a designated space for you and your family to keep shoes, coats, gloves, scarves, umbrellas, school bags and virtually anything else they frequently carry out the door to work, school, sports practice and more. But keeping everyone's stuff corralled all fall and winter, and keeping the area physically free of slush, water, leaves and dirt can be difficult.
Here's how to keep your mudroom clean all season long.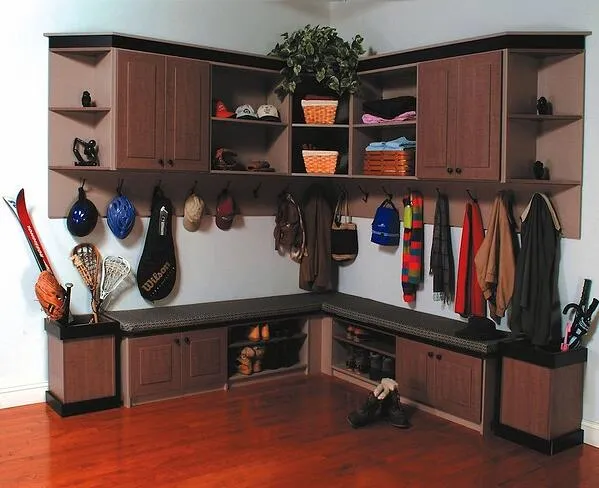 Use the double doormat trick
The treads on your boots and shoes are great for gripping wet sidewalks and streets, and they're also great for staying wet. To clean off your boots as much as possible, place a doormat outside your mudroom entrance and just inside the door so you and your guests can wipe your feet twice and reduce the amount of water and dirt you track into the house.
Add a boot tray near the entryway door
Set boots on your tile or hardwood floors just inside the door and you'll end up with a puddle of dirty snow or rainwater that'll slowly grow until you clean it up. Instead, use a shallow rubber or plastic tray to corral wet boots or shoes until they dry. Find a tray with ridges or a raised pattern to help shoes dry faster.
Create a dedicated shoe storage spot
Beyond a boot tray, add dedicated shoe storage and a bench to encourage guests and family members to take off their shoes as soon as they step inside. Cubbies under a bench work well for storing dry shoes out of the way. Be sure to add enough cubbies for each member of the family, plus a few guests.
Add storage for winter gear
Baskets, drawers or even a big bin in the mudroom can help you store hats, gloves and scarves for the whole family. Heavy-duty hooks work well for hanging winter coats and jackets. Whatever type of storage you choose, make sure it's durable enough to withstand wet gloves and hats, and easy to reach for even your smallest family members.
Keep cleaning supplies nearby
No matter what, you'll likely end up with dirty, wet and occasionally salty floors. Add a slim cabinet to your mudroom to store a broom and dustpan, a small mop, disposable cleaning wipes, paper towels and other cleaning supplies to sweep out leaves and mop up dirt and water. Store a small trashcan to dispose of dead leaves, paper towels and cleaning wipes.
Add a paw towel and space for pet accessories
Add an extra hook near the door to hang a towel for your dog. When they return from being out in the elements, you can more easily dry them off so they don't track water and dirt through your house. You may also want to dedicate a bin for your furry friend to keep their brush and other pet accessories.
You can't avoid rainstorms and snow squalls this season, but you can prevent them from mucking up your entryway or mudroom. If you're in the process of prepping for fall and winter and want to add custom storage, reach out to us for a free, in-home consultation.