A Mudroom Miracle: Finding a Place for All Your Stuff
You've got a beautiful entrance to your house—your front porch is decorated for the season and when you open the door, an elegant area rug and lighting fixture greet visitors.
But if you're like many people, the only time someone walks through your front entrance is if they've never been to your house before. The entryway everyone uses is most likely closer to your garage or on the side of your house—through the mudroom.
Your mudroom is a catch-all space for outdoor gear, mail, work and school bags, shoes, purses, and anything else you use just about every day. Chances are it is not well-organized, which can make it hard to find exactly what you need before you run out the door.
To help you avoid tripping on kids' shoes every time you come home, get organized with these ideas.
Here are some excellent solutions on how to keep your entry and mudroom organized.
Open Storage That Puts Hats, Coats and Shoes within Reach
Want to make it as easy as possible for every member of your family to put their stuff away? Add open storage.
Add shelves and cubbies so you've got enough room for several pairs of shoes and boots, as well as your collection of summer baseball caps, winter hats and gloves, and anything else you need to stash when you get home—and grab before you leave. If the shelves and cubbies begin to look unruly, add decorative baskets to contain items.
Got Kids? Get Drawers
Let's face it, the chances that your kids will take time to hang up a coat in your hallway closet, carry their backpack to their room or carefully put away anything when they get home, is slim. If you don't make storage easy, things will end up on the floor. But entryway drawers and cabinets that create concealed storage can tidy up a space instantly. Each person in your family can store their belongings in a dedicated drawer to keep things out of sight and in one place.
Add a bench for an easy place to put on and take off shoes, as well as some heavy-duty coat hooks for bags and jackets, and your mudroom is complete.
A Storage Chest to Keep Outdoor Gear in One Place
Winter is coming. And with it come scarves to match each heavy coat, coordinating mittens or gloves, and hats for every occasion. Whether you're a family of two or six, keeping track of all that outdoor gear can be a pain—especially if you've got a few little ones.
A custom chest in your entryway—no matter how large—can easily solve this problem. It's a space perfect for outdoor gear and can double as a bench when you're preparing to face cold temperatures outside—whether you're leaving for work or school or just to go have some fun.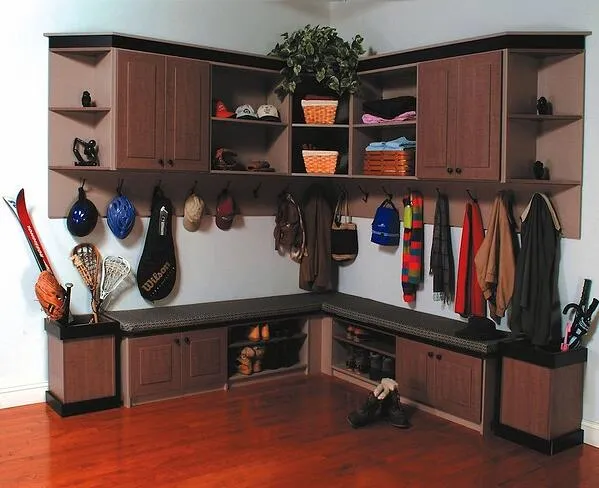 The Ultimate Mudroom for Sports Storage
There really is no great place to store skis, baseball bats, lacrosse sticks, tennis rackets, bike helmets and all of the other gear that goes along with playing sports. The garage might not really work if you don't have a proper system for storing your recreational equipment.
But a mudroom solution packs a lot of organization power in a corner, with a spot for just about every piece of equipment, as well as coats, umbrellas, shoes, hats and even some decorative items. What you store in the cabinets is up to you—it'll be out of sight.
If you're looking to transform your mudroom or entryway from a lifeless space to an organized entrance, reach out to us for a free, in-home consultation.