The Versatile Murphy Bed for Everyday Living
In a world where making the most of your living space is crucial, the popular Murphy bed has emerged as a practical solution. These functional beds offer versatility in small places and have increasingly become a favored option for daily use. While you may wonder about their comfort and durability, Murphy beds have evolved significantly, making them a viable choice for everyday living.
Traditionally, Murphy beds were associated with their foldable feature that offers an ability to seamlessly blend into the wall, providing extra floor space during the day. With the vast improvements of this bed design, it offers users a choice of many more mattresses of different sizes and thicknesses, which adds to increased comfort. Through our design process, we engage with you to ensure that the mattress you select will be compatible with the bed structure. We cater to your need for a comfortable bed design for regular use. At The Closet Works Inc., we work with you to create a full-wall feature using the Murphy bed that makes for a polished and organized look.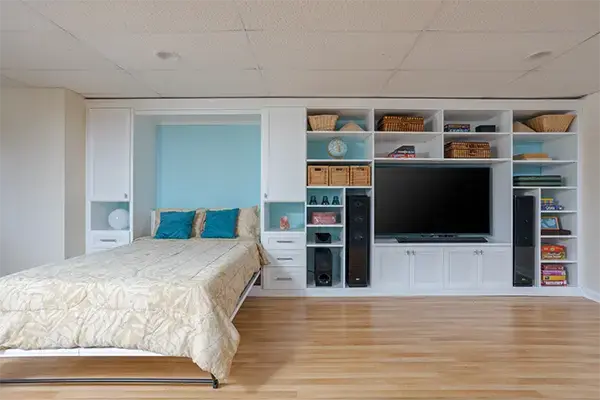 One key advantage of Murphy beds is their ability to effortlessly transform a room. Whether it's a small apartment, a home office, or a multipurpose area, the convenience of being able to stow away the bed during the day can significantly enhance your living space. This adaptability allows you to use the same space for various activities, such as work, exercise, or entertainment, without feeling constrained by the presence of a permanent bed.
Moreover, the durability of contemporary Murphy beds has vastly improved, eliminating concerns regarding their long-term use. With robust materials and reliable construction, these beds can withstand regular folding and unfolding, ensuring they remain structurally sound for many years. The longevity of Murphy beds can give consumers confidence to invest in a Murphy bed for daily use.
Another timeless aspect of Murphy beds is they remain supremely efficient with space management, particularly in urban settings where real estate comes at a premium. By integrating a Murphy bed into a living space, available square footage is optimized for a more functional and aesthetically pleasing environment. This space-saving bed is especially beneficial for people living in compact apartments or condominiums, maximizing the potential of their living areas without compromising comfort or style.
The ever-evolving Murphy bed has transformed from occasional use furniture to a practical and comfortable option for everyday living. With their space-saving attributes, improved durability, and enhanced comfort, these beds have become a preferred choice for individuals seeking a versatile and efficient living space. Embracing the concept of a Murphy bed can undoubtedly unlock new possibilities for creating a multifunctional environment that caters to the demands of contemporary living.
At The Closet Works Inc., our team of professionals can assess and assist you to find the right solution for all your organizational needs. To learn more about organization and how an effective custom storage solution can transform your home, reach out to us for a free in-home design consultation. Qualified personnel with years of industry experience are waiting to help answer any questions you may have.