Subscribe
Murphy Beds: A Summer Guest Room in Disguise
Summer has essentially arrived in earnest, and that means you'll soon be welcoming more house guests. Maybe the kids will have friends sleeping over, or perhaps relatives from far and wide will stop in for an overnight visit or longer. This is a busy time of year that calls for extra sleeping arrangements. But how can you be a gracious host if you don't have a spare bedroom? The answer is simple: Custom Murphy beds.

Murphy beds can live practically anywhere that you have space for a slim, tall cupboard. Most of the time, they're sly furnishings that stay closed up and out of sight. Then when you need them, they fold out easily to create a complete, comfortable bed.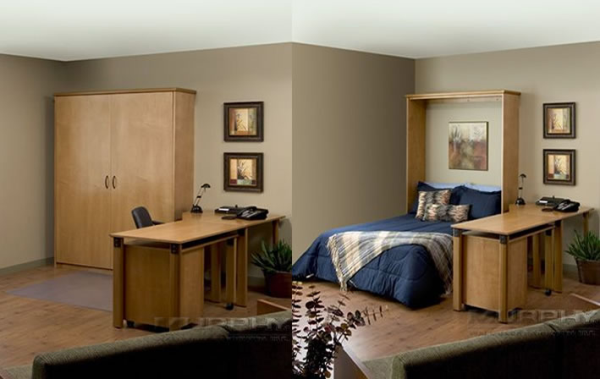 If you'd love to have a guest room but just don't have space, here's why a Murphy bed is the perfect solution.
Custom Beds Help You Nail the Mixed Use Space
If you have a home office, you probably have the space for an occasional guest room. Murphy beds are the ideal way to create a mixed-use room that's completely appropriate for either work or rest. And according to Decoist, it really can look fabulous and be functional at the same time.

Instead of setting up an inflatable mattress and wedging it between your home office desk and a filing cabinet, a Murphy bed folds out to transform a bookcase or other cupboard into a proper bed with headboard and a real mattress.

When you work with a designer from The Closet Works, everything will fit the way that it should. You won't have to move your desk to use the Murphy bed because the whole room's design is taken into consideration. And if you're concerned about your personal business and home records sharing a room with an overnight guest, not to worry. Because we create custom furniture, you can add locks for any drawers that contain personal files.


A Murphy Bed Really is Comfortable
If the idea of a Murphy bed makes you think about a rotten night's sleep, we've got terrific news. The custom beds that we design can accommodate practically any mattress that you like. Your guests won't have a metal rod poking into their backs while they're trying to sleep, and there won't be any sagging spots.

Murphy bed hardware is rugged, long-lasting and it functions well. There's no wrestling involved with the setup. For example, if your bed is tucked away inside bookshelves, the facade pivots out of the way to give access to the bed. Just fold it down once the cabinet is open, and that's really all there is to it.

Whether you need a twin, full, queen or even a standard king for your guest room, you can have it in a Murphy bed. The cabinet won't tilt or wobble, the bed won't sag, and your guests will appreciate a good rest after their travels.


When you add a Murphy bed to your home, you maximize your square footage. It's a smart solution because it doesn't require a permanent guest room commitment. That's great for a small house or apartment where there might be no extra space to find. And it's also an ideal solution for busy homes where you don't want to sacrifice the library, office, home gym or any other room full-time just to have a part-time guest room.

If you have room for a cabinet, you have room for a Murphy bed. And our designers at the Closet Works are experts in creating custom beds that look beautiful and function even better. Schedule a free design consultation and get started on a guest room that suits your home and makes your summer guests feel welcome. It's more affordable than you think!