What Goes Where? How To Organize Your Kitchen Pantry Properly
If you are a cook or a baker, someone who enjoys preparing or just enjoys savoring a great meal, then you can truly benefit from a well-designed and personalized kitchen pantry to help you reach your culinary potential. Since you love to eat, your relationship with your kitchen pantry might be complicated, to say the least. It may contain too much stuff, a great deal of which you rarely, if ever, use. Your attempts to purge, however, are more than likely in vain, since you eventually end up needing those seldomly-used items. Therefore, purging is not an option for you! Being a prepared homemaker means having appliances and cookware at the ready when needed. On a similar note, for those of you who have families and hungry households, you know that snack foods and drinks need to be available and ready around the clock to keep kids, spouses and everyone in between, happy. Ergo, your kitchen pantry is most likely bursting and disorganized.
On the other hand, you might be a minimalist and are thinking "how can a minimalist like myself end up with a congested pantry?" Minimalists can also fall victim to the issue of a disorganized kitchen pantry because it's that easy to run out of storage space. As a minimalist, you're not only storing the bare minimum of cooking materials, but basic baking items, too, in addition to snacks, drinks & treats you grab at the store. Even when buying on a budget, a kitchen pantry can run amuck.
As you can see, the options are literally endless when it comes to what you can store in your kitchen pantry and most of us are trying to optimize this space to avoid having a cluttered kitchen. With that said though, there must be an approach or organizational method that can provide it all:
A place to store your appliances
Locations for your baking equipment & cookware
A spot to hold smaller containers
Options to store miscellaneous items
Here's our list of kitchen pantry items we think you may need to make room for and a checklist of where each item can potentially be stored – bon appetit!
Appliances
Mixer – A mixer, regardless of brand, is quintessential on the pantry wish list. With a mixer, you're able to whip sugar and eggs for cakes, as well as execute more difficult projects like bread baking or pasta making. Mixers come in all shapes and sizes. When storing your mixer, we recommend you use a corner shelf. It will give you the most space by capitalizing on the corners in your pantry, which is often considered to be dead space. Another great benefit of corner shelves is they can hold other, larger items, too.
Crock Pot – A crock pot allows you to cook and prepare a decadent meal while you execute your other tasks for the day – this is life saver for busy parents. Thus, a crock pot is a time-saving essential to have for many. Another great use for corner shelves which allow for large appliances. Keeping similar items together creates consistency and adds to the overall organization of your pantry.
Blender — You put the lime in the coconut and mix it all up – and that's why you need a blender! Drinks for entertaining purposes or even just to let your hair down after a long day, as well as sauces, dips, smoothies and dressings, makes a blender a kitchen pantry essential.
The issue with storing a blender comes from its height. Some people choose to store their blender in a cabinet with the lid off, sitting next to the blender's base. The issue with this approach is the likelihood of dust falling into your blender before using it or cobwebs forming, as well as an increased likelihood of losing the lid! The solution? Using adjustable shelves can give you the tall space the blender needs when holding onto this appliance season after season. If you like to organize by category, you can also store your blender on a corner shelf alongside your mixer and crock pot. Corner shelves can be made to adjust, too, which means your blender will still have the space it needs.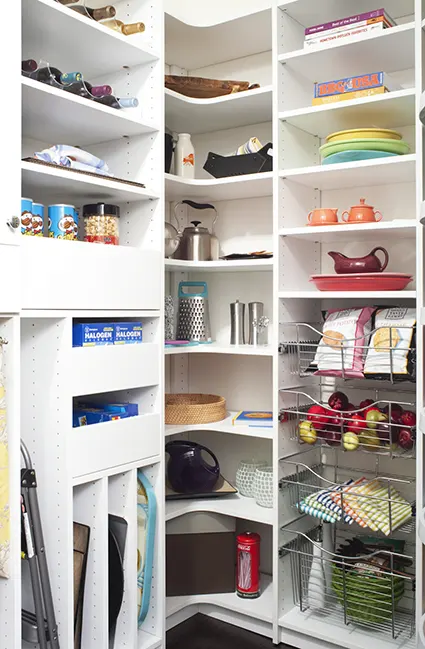 Baking Equipment & Cookware
Serving Trays, Cookie Sheets & Other Long Items – The challenge in storing cookie sheets, as well as serving trays and other long pieces, is they don't have a dedicated home in a pantry. Each of these are longer than most items, which makes it more challenging to store them on shelf or in a cupboard. Storing in these places results in a stack that you have to dig through. Which is not the worst problem to have but when your goal is to organize your pantry and have it appear organized, stacks of trays in differing sizes and shapes isn't likely what you had in mind. Adding a vertical roll-out divider shelf makes the storage of them much simpler.
Cooking Tools – Any expert will tell you: if you're going to take cooking seriously, especially baking, you should invest in the proper tools & accessories. Storing cooking paraphernalia can seem straightforward but only if you have the proper storage accessories. Roll-outs with dividers are a terrific accessory because you have the storage space needed but with an added organizational element – the dividers. Another great fact about drawer dividers? They're customizable according to the length and width you need.
Pots & Pans – You're likely dealing with all types and sizes of pot and pans because different dishes call for different cookware. Storage space in a kitchen is valuable, so why not store your pots and pans in the pantry and free up some of that space in your kitchen? We suggest you allocate a cabinet or cupboard in your pantry to your pots and pans. Depending on how many you own, you can devote the back of one cupboard to those you rarely use, and the premium real estate in the front of that cupboard for those you use more often.
Storing Smaller Containers & Canned Goods
The space behind your kitchen pantry door is often unused or under-utilized. If you install narrow shelves, however, behind this door specifically for your smaller storage containers, cans and boxes, you can have:
1.) immediate accessibility to these items
2.) more cabinet/cupboard space available in your kitchen
3.) better usage of space
What items can you store on shelves behind your pantry door? Items like cereal boxes, snack boxes, baking items such as baking powder, baking soda, and corn starch, cans, jars, and even cannisters containing flour, sugar and so much more. Think about how much space you'll free up elsewhere!
Speaking of ease and convenience, Lazy Susans are the epitome of transforming dead space into something useful. A Lazy Susan is best placed in the corner of a kitchen pantry and has a 360 degree, independently rotating shelves. Usually have two or more shelves included, a Lazy Susan is ideal for storing canned soups and vegetables, as well as smaller containers overall.
The Finer Things: Tablecloths & Wine
When considering where to store your tablecloths, the common choice is to simply fold them neatly and stack. Although there is nothing wrong with this method, it does leave you with creases in the fabric and inevitably, leads you to ironing. Tablecloths are often used on special occasions or holidays, so why not give them their own special place? A hanging tablecloth divider roll-out in your pantry guarantees you a neat and organized approach to maintaining your linens, all without creases. Check out how it works below!
Speaking of special occasions and finer things, wine storage should be carefully considered, regardless of if you're a connoisseur. Did you know that when wine is stored in a vertical position, it can age prematurely and even overly ferment, leaving you with a vinegar like substance? Putting cubbies in your pantry provides you with the horizontal storage solution you need to keep all of your bottles at top quality. It also creates a miniature wine room, so as you begin to collect bottles you have a safe space to keep them.
When it comes to organization issues at home, a kitchen pantry can often be a problem area. This dedicated catch-all for the kitchen is often hidden behind a closed door, which leaves its maintenance at a lower level of priority than the kitchen itself. While the pantry may be your storage problem, it doesn't have to be. Here is how you can ensure that you are getting the most out of your pantry's storage space:
Store your large and small appliances on corner shelves.
Place long items like cookie sheets in a vertical roll-out with built-in dividers.
Keep cooking tools in a drawer with dividers.
Decide which pots and pans you use most often. Then, dedicate a cupboard or cabinet to those you use most often, and those you don't.
Use the space behind your kitchen pantry door and/or a corner Lazy Susan for smaller items and canned goods.
Invest in a roll-out built specifically for tablecloths and linens, as well as cubbies for proper wine storage.
Remember: it's not what you have, but what you do with it (and where you store it) that counts!
Interested in learning more about getting organized or The Closet Works' custom organization solutions? Contact us today for a free design consultation with one of our professional Designers.