How to Organize Your Reach in Closet For Fall and Winter
Millions of homes have reach-in closets; however, many of these spaces tend to become boggled messes of confusion, disarray and frustration, especially when you try to jam two or three seasons' worth of clothes into one small area.
Right now, there's a great chance that your reach-in closets contain some necessary winter gear in the darkest depths. Do you even know where, exactly, your cold-weather clothes are after such a scorching summer? If not, try organizing your clothes and accessories for fall and winter with the following steps.
Here are 8 steps to get your reach-in closet organized for fall and winter.
1. Review All of Your Clothes
The first step to getting organized before fall breezes in is to review everything you currently have—that includes summer and cold-weather clothes. Pull everything from your closet and review each item to decide if you'll keep it, donate it or trash it.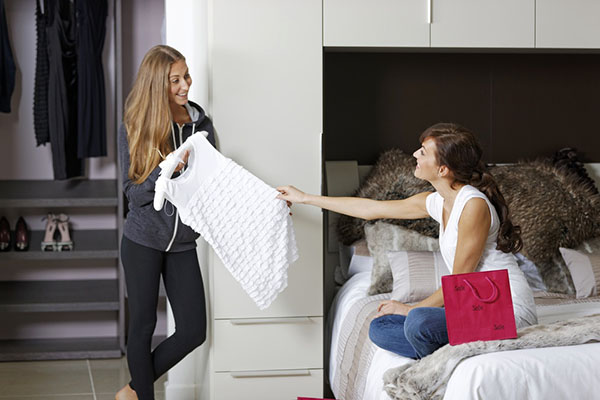 2. Carefully Organize Hanging Clothes
Most reach-in closets have a single bar for hanging clothes with one single shelf. Depending on the size of your wardrobe, try to be judicious in what you hang back up after your clothing edit. In fact, you may want to relocate clothes you won't wear in the fall and winter, such as spring dresses and summer-weather tops. Avoid overstuffing your closet as much as possible—this only makes it harder to find things.
3. Find a Home For Sweaters and Knits
One of the biggest challenges during fall and winter is organizing your sweaters and heavy knit clothes. These items shouldn't be hung on hangers because they'll lose shape. But folding them in a big pile isn't the best option, either. Consider adding more shelves to store folded clothes in shorter piles.
4. Store Coats and Cold Weather Accessories Elsewhere
To help avoid overstuffing your reach-in closet, store heavy coats, winter scarves, gloves and hats in your mudroom or entryway. This will free up space in your main bedroom closet for blouses, pants, suits and dresses.
5. Use Cubbies for Hiding Spring and Summer Shoes
Cubbies are the perfect solution for storing small, thin shoes, such as sandals, flip-flops and summertime flats in the off-season. This will also free up floor space for boots, which are notoriously hard to keep organized.
6. Use Hooks to Hang Jewelry, Scarves and Other Accessories
The best way to keep your reach-in closet organized is to hang only what's really necessary in there. Use hooks to hang scarves, accessories and even some jewelry—whether it's on the side wall, on the back of the door or in another spot in your room. This will keep the space feeling a little less cluttered.
7. Add Additional Lighting in Dim Areas
Many reach-in closets have just one light above, which makes it difficult to see clothes stored on either side or below hanging clothes. Consider adding small, battery-powered lights to illuminate your clothes as the days get shorter.
8. Consider Custom Storage
To really get the most out of your reach-in closet in any season, you can add custom storage to it. To help you get organized, a Designer will review everything you want to store in the space and make recommendations on how best to get and stay organized with enough hanging storage, custom shelves, shoe storage and room for jewelry and accessories.
If you're ready to transform your reach-in closet with custom storage, reach out to us for a free, in-home consultation.