Organizing a New Laundry Room
What's the best part of designing a brand new laundry room? You get to start from scratch and create a space that accommodates you and your family's specific needs. This is especially helpful when it comes to keeping your laundry room organized. The closet company you choose will help you design a space that's ideal to work in and install storage solutions that are custom made to fit, thus, helping you stay tidy 365 days of the year.
If you're in need of inspiration for your new laundry space, look no further! We've outlined our favorite organizational features below – features that we have tested and have seen work time and time again for our clients. Here's to organizing your state-of-the-art laundry room!
Feature #1 – Arranging Your Washer & Dryer
If you have a smaller space in your laundry room, we would suggest that you consider stacking your washer and dryer, if possible, because this will free up floor space. Also, in most laundry rooms you will have space for cabinetry above the stacked units, which is best suited for seldom used items. If you do not stack and the washer is front-loading, you can add a countertop above, which can be handy for sorting or folding. If you have a top load washer, you won't be able to add a countertop but you can have cabinets installed above to hold all of your laundry supplies and cleaning products. Consider adding a hanging rod too, to allow delicates to air dry. We have an example of both stacked units and side-by-side units below – check them out!
Feature #2 – Roll-Outs With Incredible Depth
Wasting valuable space in a laundry room happens more often than you'd think. This is because laundry rooms are frequently located in tight spaces, not to mention the occasional dual-purpose room, like a combined mudroom/laundry room. When designing your new space, it's important to utilize every square foot possible – this is where roll-outs come into play. These unique drawers provide you with easy access to products stored further back. Also, if you choose to go with roll-outs that are 24" deep, or deeper, you really do get more storage space.
Feature #3 – Vertical Storage Solutions
For your new laundry room, strongly consider how to best use your vertical space. More specifically, see if a "vertical drawer" to store atypical cleaning implements such as mops, brooms, dusters, Swiffers and more. It's commonplace to see these items propped up in a corner or leaning against a wall, which is not only an eyesore to some, but they also end up getting in the way of you effectively and efficiently executing chores. Don't forget stacked roll-outs to hold cleaning supplies, which we discussed above.
Feature #4 – Concealed Drying Racks & an Ironing Board
Free-standing drying racks take up floor space – floor space that is valuable (and don't get us started on makeshift clothes lines!) With all of that said, have you seen or considered special drying racks? Custom drying racks can even be hidden behind faux drawer fronts! These types of drying racks are mold resistant and are incredibly useful for wools & knits that cannot be put in a dryer.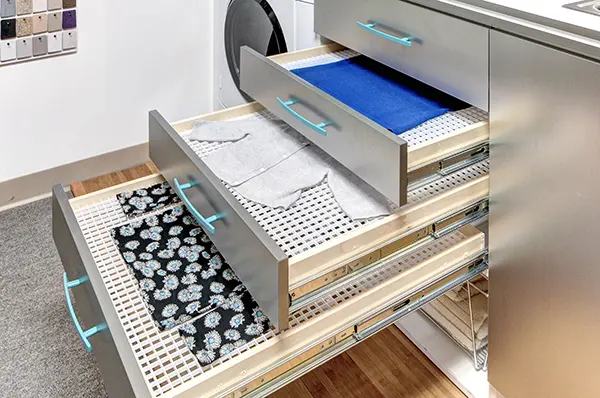 Traditional ironing boards can be a pain. Not only do you need space to store this bulky item, but when you need to use it, you have to take it out and set it up which eats up your time. And sometimes, there is simply no time for all of that. Meet a concealed ironing board! Also known as a swiveling or fold-away ironing board, this special tool not only saves you time, but it also – you guessed it – saves space. Whether you choose this drawer stored option with a faux front, or one that resides in a wall-mounted cabinet, you can't go wrong.
Interested in learning more about getting organized or The Closet Works' laundry room installations? Request a free design consultation with one of our professional Designers today.