Organizing Your Home: Before and After A Move
When you first consider moving, it can seem like an overwhelming task. Whether you've decided to purchase your first home, you and your family need a bigger space or looking to downsize, the process of moving can be daunting.
In order to make the transition as smooth as possible, there are a number of things you should keep in mind throughout the process.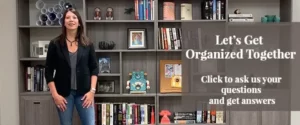 Find the Right Place
One of the most important steps is to find a home for you and your family and all of your things to comfortably fit. Create a mental checklist of what you have, and how much space you would need to go along with it. Also consider, are you planning to expand your family soon, or on the opposite end, maybe some of your loved ones are moving out in the near future. All of these things play a factor into which home would be the best fit. While creating this checklist, look into online housing tools that can help you find the right one. Maybe you want that extra storage space so a basement would be nice, or you are now working remotely and need a home office. All of these different factors will help narrow down the list of potential homes to look at.
Downsize
When preparing to move it's helpful to go through things and determine what you still need, what can be donated, and what can go in the trash. Downsizing your belongings helps to ensure you are only bringing the necessities. When going through the process there are a few things you can ask yourself:
Has this been used in the past month?
Have I worn this within the last month?
Will I need this in the foreseeable future?
Is there space for this in the new house?
Whether cutting back on clothes, personal items, or even furniture, try to only bring what you truly need. This will also help to create the feeling of a fresh start. A new home is a new adventure, and it should feel like one. Bringing along old things that don't serve a purpose any longer will just drag that adventure down. It also provides the opportunity to find new things that work better for the space, and your life.
While packing up your belongings try to label each box, this will make it much easier for the moving team to place things in the proper rooms. If things end up in the wrong room you may say "I'll move it later" and months later you can't find it, because it was never put in the right place to begin with. Although this may seem trivial now, it will help to shorten the moving process and down the road it can and will make a difference on how smoothly your home runs.
Organizing Your New Space
Now that you're in your new home, the real organizing can begin. Decide on which rooms need to be unpacked first, as some will need more immediate use. Bedrooms are ideally the first to be set up, so children have a space to be and play while the rest of moving is taking place, and family members are able to unwind or take a break. The design doesn't need to be taken care of right away, but ensuring the beds are made, and the toys can be located will make the move easier on you and the rest of the family.
It's also important to make sure safety is being taken into account. Any electronics, cords, or big pieces should be in a safe and secure place that can't harm anyone. It's hard to constantly have your eyes on little ones during a move, but making sure things that could potentially cause harm are kept out of sight will help to ease your stress. It's also helpful, as cords and electronics can easily be shoved in a drawer at the end of the night and create a big tangled mess, or never to be found again.
The main goal of an organized home is that everything has a designated place. This means nothing has to be left on the counter, or stuffed into a hall closet. Luckily, if a home is your dream home, you don't have to say no to it just because it doesn't have the perfect storage space. There are a number of ways you can create the desired space on your own, or with the help of a professional. For example, if your kitchen pantry isn't quite what you are looking for, you can create a custom pantry that is designed specifically with your needs in mind.
Lastly, work on the points of entry. If there is a formal entryway at the front door, create a space that feels inviting to all those who enter, and feels organized to you when you come home after a day of work. By adding an entryway table, a bench to put on your shoes, and hooks to hang a guest's jacket it will establish your home as a welcoming place. If there is a mudroom off the garage, for example, where kids throw off their shoes and backpacks at the end of the day make sure there is a space for them as well. Purchasing a shelving unit or locker system will give each person their own designated space where they know their things fit into. Installing a mudroom system will make the house feel more organized, and can also help those early mornings on the way to school run more smoothly too.
Whether a space is big or small, utilizing the proper organizational tools and strategies can make all the difference to running a happy and efficient home. Moving to a new home is a big change, but when the right steps are taken before and after, the new place will feel perfect in no time.