Overnight Guests with No Guestroom? Sure… With a Space Saving Murphy Bed
If you need a guest room but don't have enough space to dedicate a separate room solely for overnight guests, a Murphy bed is the perfect solution. A wall bed, as they are often called, free up floor space and allow a room to be utilized in a dual capacity for everyday tasks or a comfortable place to sleep. They might be just the right choice if you have a studio or very small one bedroom apartment where maximizing your space is really critical. You don't have to sacrifice style or comfort and your options are almost limitless. There is no construction, and each design can be customized for just about any sized space.
What are the best features of a Murphy Bed?
Murphy beds come in a variety of sizes including Twin, Full, Queen and King sizes.
Side-tilt as well as end-tilt configurations make them suitable in almost any size room because they can be stored horizontally or vertically within a cabinet when not needed.
Wall beds provide an economical solution to the "more space" problem.
Each unit can do double or even triple duty – a guest room, a hobby room, or an office – the possibilities are endless.
Fold down beds are much more comfortable than a sofa bed or cot. They are also able to support high quality mattresses.
Wall Beds Have Endless Options
Murphy beds are available in any standard size (although the side-tilt is not available in king size). This allows you the flexibility to customize the room any way you would like. Use a king or queen if your in-laws are frequent guests, a pair of folding twins if the grandkids sleep over often, or a full size for the occasional college student who comes home to visit. There are a variety of solutions that will allow your room to be flexible and fully functional.
If you have limited space or clearance issues, a side-tilt mechanism may be the best choice. Depending on how you would like to use the space and the way it's configured, how the bed opens into the room can make a big difference.
Cabinetry can be designed to serve multiple functions. The first is to simply hide the bed and the mechanism. Additional custom cabinets surrounding the bed can add to the beauty and utility of the entire room. They can create storage space, a work area or a home for audio/visual equipment. Specific options include shelving, cabinets, cubbies and drawers. Deep drawers can be designed to hold additional pillows, blankets and sheets. The inside of the cabinet can even be outfitted with lighting, and without the expense of having to hire an electrician. Add to the style of the unit with a variety of decorative hardware options.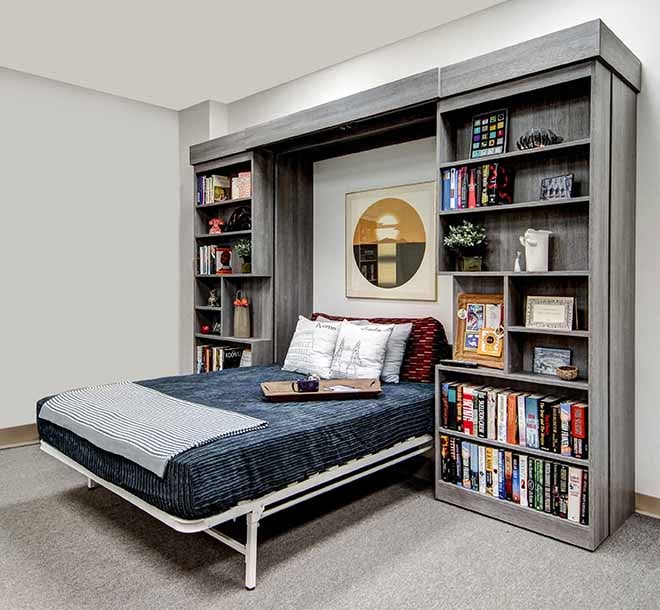 The Cost Of Pull Down Beds
A Murphy bed is very budget-friendly. Whether you prefer a traditional design with moldings and raised panels or a clean, sleek contemporary look, you can customize your cabinetry to reflect your taste. All while enhancing the look you want to achieve. Typical cost to create a mattress-ready unit can range from $1,000-$5000 depending on the complexity and specifics of the design.
If you still have questions about Murphy beds, we have answers. Feel free to reach out to us for a free in-home consultation. We can help you create the extra room you desire in your home.