Get Your Pantry in Shape for the Holidays
The holiday season brings joy, memories, and great food along with it every year. Even though this holiday season may be done a little differently, that doesn't mean the most magical time of year has to feel so cold. If you find yourself doing some extra cooking and baking, you may need help organizing your pantry so it is as functional as possible. There are a few sure-fire ways to keep your kitchen in tip-top shape so showing your love to your friends and family can be as easy as pie. Taking an inventory of what you have can save you time, and money. Making sure labels can be easily read can help reduce risk of using expired foods, as well as make it easier to keep track of any potential issues with food allergies. Utilizing all the space you available can come down to a solution as simple as a step stool to reach further back into cabinets. Overall, an organized kitchen pantry can reduce stress while navigating the busy holiday season, so you can get back to focusing on what really matters this year.
Here are some ideas to make sure your pantry is ready for the holiday season.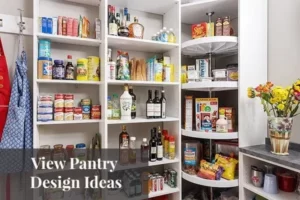 Come up with a list of quick and easy recipes and take inventory

After a long day at work, cooking can sound like no small feat. That's the perfect time to whip out those recipes that are quick and easy to make. Collecting and organizing those recipes as well as taking inventory of what you have on hand before making your shopping list, will save money and help your trip to the store be as efficient as possible. A grocery shopping list can be easily created on your phone with these apps, so you don't have to worry about leaving it on the kitchen table. Looking for some new and fresh ideas? There are some great apps with recipes for appetizers, main courses and desserts!
Utilize storage in hard-to-reach and dark areas

The proper pantry design can create storage in places you may not have known you even had! I know what you're thinking, "wait.. I can store that where?!" Yes! The corner of your cabinets, the back of pantries, and even low shelves can all be incredible places to utilize storage! In corners, L shaped shelves are a great place to store mixers, air fryers, and bulky appliances that assist in making the holiday food as delicious as it can be. Shallow shelves can be added behind a door that are just the right size for canned pumpkin and cranberries, boxed items or your son's favorite soda! The back corner of pantries is also a perfect place for a lazy susan! Each shelf spins individually making all items on it easily accessible. Bending over to dig in drawers for baking sheets and drying racks can be a pain, literally! With vertical roll-out divided trays, utilizing your space has never been easier. Martha Stewart recommends keeping items like pastry bags, biscuit and cookie cutters, icing tips, and frosting combs in clear sorting boxes. By making use of proper cabinet and drawer storage, it can clear up counter space so when it comes time for grandma's famous cookie recipe, you have all the space you need.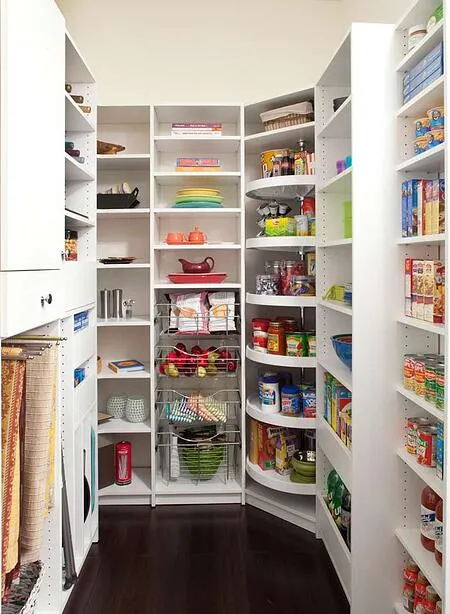 No matter the size and shape of your space, a pantry can be designed to make the area more functional, organized and efficient not only around the holidays, but year round! Not sure where to start? Contact us today for a free design consultation.